07.04.2020 - We are still here for you. Standard delivery currently takes about about 5 to 7 working days. More
Pop Art Cushion Cover Fame
Artistically created using needle and thread.
Pop Art Cushion Cover Fame
Artistically created using needle and thread.
The striking pop art style of Roy Lichtenstein as a cushion with an elaborately embroidered motif.
The brightly coloured, iconic motif is created using a precise single-thread chain stitch technique.
In the early 1950s, a provoking and strident art movement developed in the UK and the US which focused on the cosmos of everyday objects, comics and mass media. One of the outstanding stars of this pop art scene was the American, Roy Lichtenstein (1923-1997), who transformed the motifs of popular comics into huge, brightly coloured paintings. Like this illustration, which has been embroidered onto the cushion in pop art style.
Artistically created using needle and thread.
The embroidery is done mechanically, but is very elaborate. Small loops are embroidered using a single thread and are then joined to form a fine, chain-like pattern. Embroidered in bright colours over the entire surface, the motif is very expressive, with particularly precise, sharp contours. A powerful eye-catcher on your sofa or fireside chair. Beige/multicoloured. Cover: 100% cotton. Embroidery: 100% acrylic. Cushion cover with zip. Measures 45 x 45cm (17.7" x 17.7"). Weighs 250g (8.8 oz). Cushion pad available separately.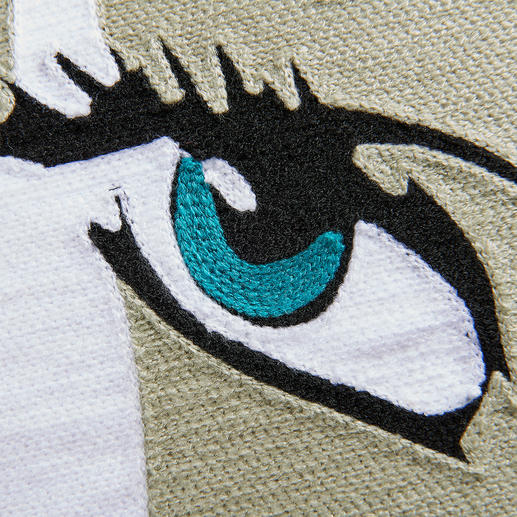 Be the first to review this product