05.04.2020 - We are still here for you. Standard delivery currently takes about about 5 to 7 working days. Mohr
Linen Summer Blanket or Cushion
The unadulterated beauty of pure linen, handcrafted with ornamental iris print.
Rich material, non-slip quality. Trendy as a vintage-style blanket and cushion. By Frohstoff, Hamburg.
This linen could be a treasure of old, when it was still spun by hand and roughly woven into natural fabrics. For the trousseau, and for all time.
Every blanket, every cushion a unique piece with rustic, linen character.
With their typical, thick thread sections and slightly rustic structure, these blankets and matching cushions are of a linen quality that has nearly died out: Rich in material, undyed and washed. A material with a rustic look – but that is wonderfully soft and not as stiff as linen often is.
Elaborate, ornamental iris print provides a fine colour gradation to the motif.
The large, lace-like ornamental motif was inspired by the faded beauty of ancient frescoes. It's crafted purely by hand, as opposed to conventional prints. Two, solvent-free colours are printed on the blanket through a single screen with love and by hand in a single process. That is how the colours transition so gently and iridescently into one another.
Versatile mix and match.
The linen blanket with hand drawn, neatly edged hem is ideal as a light cover for evenings on the terrace – as well as a fine tablecloth. Measures 140 x 200cm (55″ x 79″). Weighs approx. 0.75kg (1.65 lbs). Matching cushion with hemp-cotton filling. Measures 50 x 50cm (19.7″ x 19.7″). Weighs approx. 0.5kg (1.1 lbs). Both 100% linen. Cover is machine washable. Colours: Beige/Cream/Rose.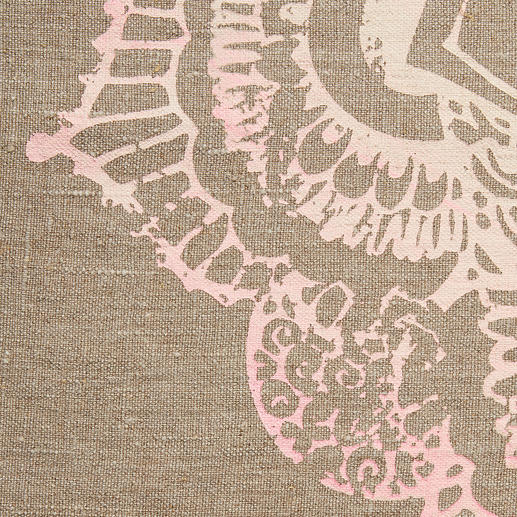 Be the first to review this product