05.04.2020 - We are still here for you. Standard delivery currently takes about about 5 to 7 working days. Mohr
Magical sea of lights - table with a ring of LED lights and an infinity mirror.
Illuminated by ingenious reflection with x-fold depth effect.
Switched off: A simple side table with a round mirrored glass top. But switch on the LED strip embedded all round, and the mirror becomes transparent – and an almost endless tunnel of lights consisting of small, warm white LED light points appears.
A magical eye-catcher.
The so-called infinity effect is created by two mirrors: One is reflective, the other semi-transparent. Both are arranged in such a way that the semi-transparent mirror lets the LED light fall onto the reflective one. This results in ever smaller reflections that form a tunnel of lights. Radiant as a starry sky and of great depth, in which one can lose oneself.
A highlight at parties. Also sophisticated without decoration.
Present your champagne surrounded by a beautiful sea of lights. At your New Year's Eve party, see in the new year with glamour. Elegantly illuminate your birthday or wedding cake – and put gifts for an anniversary or passing an exam in a stylish light. Also perfect for highlighting a bouquet of flowers, a sculpture at any time of year – or just for your own enjoyment of this table.
Battery operated, so no annoying cables.
Battery compartment with on/off switch. Works with 3 AA batteries (sold separately).
High quality with iron frame.
Crossed struts at foot level and under the mirrored glass. Four-legged construction. All metal parts painted black. Rods measure approx. 10mm (0.4") in diameter. Underside floor protectors. Size: 50cm (19.7") H and 47cm (18.5") in diameter. Weighs 3.75kg (8.3 lbs). Easy to clean and wipe off.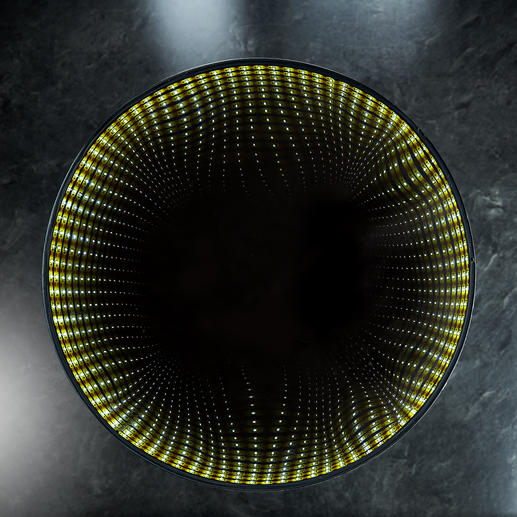 Be the first to review this product