A very rare swinging Christmas decoration: Noel the dancing gnome.
In 3 impressive sizes. An eye-catcher in the entrance hall, living room, solarium, etc.
Already the impressive size of 80, 100 or 120cm (31.5″, 39.4″ or 47.2″) makes this charming gnome an extraordinary eye-catcher. But the real highlight is Noel's agility.
Rocking on a spring frame, he starts to "dance" at the slightest touch.
Marvelous fun for children and adults. And something fresh to talk about at an Advent tea party, dinner party, Christmas party, and so on.
Tastefully dressed – suitable for any home décor.
The brown coat and the grey pointed hat are knitted in a rib pattern and trimmed with fluffy faux fur. Its metal frame stands on stable feet. A flexible wire inside allows the arms and the tip of the hat to move. Felt shoes protect your floors from scratches. Size S: 80cm (31.5″) tall, 27cm (10.6″) diameter, approx. 600g (1.3 lbs). Size M: 100cm (39.4″) tall, 36cm (14.2″) diameter, approx. 835g (1.8 lbs). Size L: 120cm (47.2″) tall, 43cm (16.9″) diameter, approx. 2100g (4.6 lbs).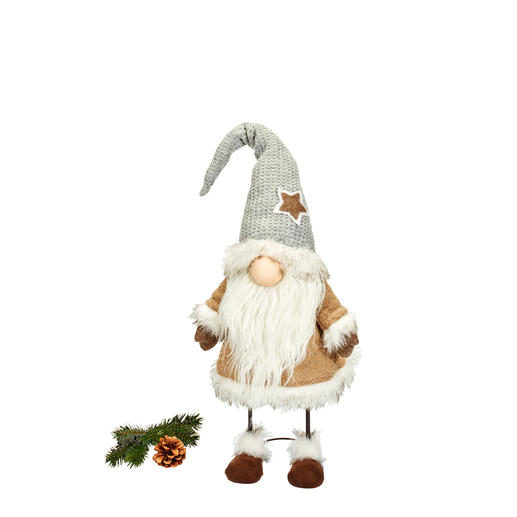 By Ann R. on 12.11.2019
Dancing gnome
Providing much amusement, as did the three reindeer last year.