Aluminium Stool
Both a versatile basket and a comfortable, elegant aluminium stool.
Both a versatile basket and a comfortable, elegant aluminium stool.
Can change its purpose simply by turning it upside down. Made of beautiful bronzed aluminium. Stable, lightweight and amazingly comfortable. By Philippi.
What at first glance looks like open-weave wickerwork, is in fact made of sturdy aluminium – shape-retaining, strong and resilient. At the same time, it is lighter and far more comfortable than it seems.
Artfully sculptured from aluminium strands and beautifully bronzed.
As if handmade by weavers from natural, irregularly grown sticks, the finger-thick bars form chunky open-meshed squares. The stylish, golden-brown colour is created by bronzing and is partially polished so that it retains its warm lustre.
Comfortably shaped to fit the body.
A gently curved shape forms the base or seat of the bulbous body. Nothing digs in, nothing pinches: Even without upholstered cushions you can sit comfortably at a pleasant 43cm (16.9") sitting height.
Turned upside down, the stool becomes a spacious basket.
The firm border of the opening (28cm (11") diameter) makes the storage space easy to fill. Perfect for firewood, newspapers, towels or as an umbrella stand. Suitable for outdoor use, the basket is also ideal for keeping warm fleece blankets ready in the garden. In winter, however, please store it away from frost.
Suitable for every style of furnishing: Modern, country house, romantic, rustic, ...
Measures 43cm (16.9") H, max. 28cm (11") in diameter. Weighs 7kg (15.4 lbs). Easy to clean by simply wiping it up. Design: Flip Design.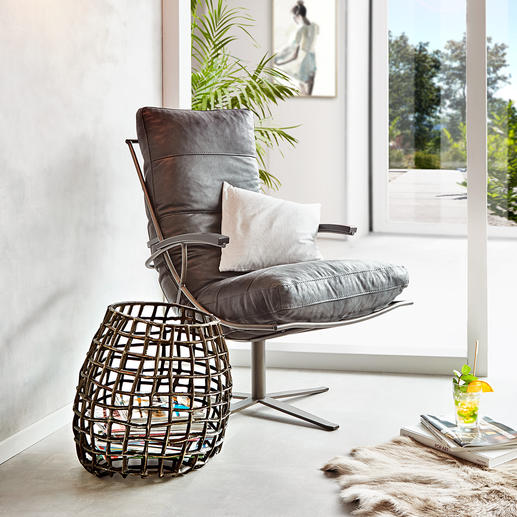 Be the first to review this product