05.04.2020 - We are still here for you. Standard delivery currently takes about about 5 to 7 working days. Mohr
1,000 Lumen Solar Safety Light
1,000 lumens of floodlight, sensor controlled and no electricity cost.
Ingeniously flexible adjustable solar lamp for better safety on garden paths, steps, entranceways, ...
If you approach this solar light at up to 8m (26.2ft), the sensor activates 70 ultra-bright SMD LEDs. For 30 seconds, 1,000 lumens of bright light (instead of often only 500 lm) illuminate your entrance door, the way to the garage, ... Then the spotlight switches off automatically, if movement is no longer detected.
Optimal flexibility.
Instead of just one lamp head (as is usually the case), this high-performance light has 3 movable spotlights that you can turn and tilt independently. This way, you set up the light exactly to your wishes – even in corners and at an angle. Lighting range approx. 20m (65.6 ft).
Freely sited, without cables and without a power connection.
During the day, the incident sunlight is stored via a solar module (13.7 x 8.5cm (5.4" x 3.3")) as electrical energy in a long-life Li-ion battery with an enormous 2,200mAh capacity (instead of often only 500mAh) – even with cloudy skies and in the shade. Fully charged, sufficient for 150 switching operations every 30 seconds.
Also ideal for the garden shed, the terrace, ... And to deter uninvited guests.
Detection angle of the sensor: 120°. Made of robust plastic, protected against water jets and dustproof (IP65). Wall bracket, dowels and screws included. Size (W x H x D): 17.6 x 10.3 x 11.7cm (6.9" x 4.1" x 4.6"). Weighs 350g (12.3 oz).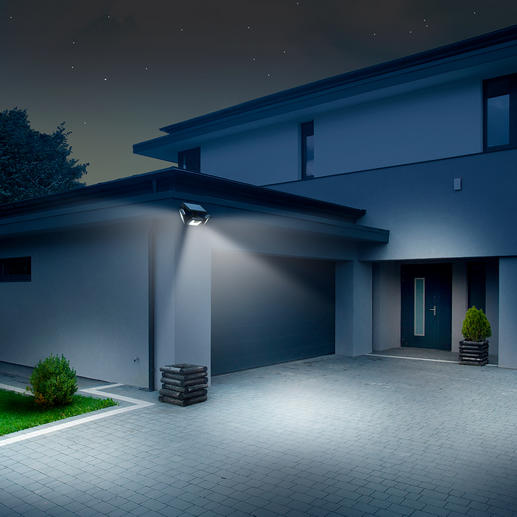 Be the first to review this product