Adot AM5 Sunbeam Effect Lamp
Adot AM5 Sunbeam Effect Lamp
A cosy ambience instead of dark corners.
The warm light of this accent lighting creates a soft cone of light on the walls that looks like a sunbeam.
This ingenious lamp creates wonderful accents on any wall – just by tapping a finger. The designers have created a puristic object consisting of an aluminium body and a very clear Pyrex glass dome, in which the technicians have incorporated true light art.
The optoelectronic light effect generates a spherical light.
It is very similar to sunlight: Very warm and soft. The angle of the narrow beam is bent, creating a cone of light, which resembles a sunbeam. When you move the lamp closer to the wall or further away from the wall, you can vary the height at which the cone of light begins. 
Spectacular lighting effect, unspectacular energy consumption.
The lamp consumes only 5 watts and can be dimmed to a choice of four settings by touch. The lamp measures 5.3 x 10 x 10cm (2.1" x 3.9" x 3.9") (H x L x W) and is made of aluminium and Pyrex glass. 150cm (4.9ft) USB connection cable with power plug. Colours: Silver or rose gold. Luminous flux: 150 lumens.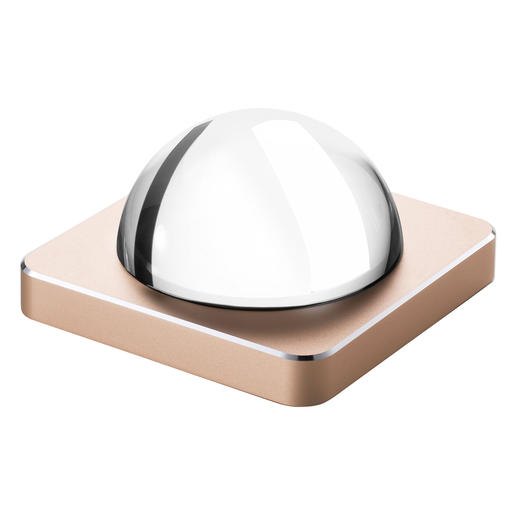 Be the first to review this product