Huge air flow rate of almost 1,000m³/h (35,314ft³/h).
Works differently compared to conventional fans.
Even quieter than many computer fans.
The black piano-finish, combined with chrome, will suit any interior.
Huge air flow rate of almost 1,000m³/h (35,314ft³/h).
Works differently compared to conventional fans.
Even quieter than many computer fans.
The black piano-finish, combined with chrome, will suit any interior.
America's favourite fan – now even more powerful (and better looking).
The new Vornado® 660: Powerful enough for rooms up to 120m² (!). Exclusively available in Great Britain from Pro-Idee.
A lovely breeze throughout the room, instead of harmful draughts in just one corner. And a pleasant room temperature without any cold or hot spots: These are the unique benefits which distinguish the Vornado® from other fans. And now there's the new Vornado® 660 – exclusively available in Great Britain from Pro-Idee.
Huge air flow rate of almost 1,000m³/h (35,314ft³/h).
The stream of air from this powerful, approx. 28cm (11") in diameter fan covers areas up to 30m (1ft) away (!). It's even powerful enough for high, spacious areas (up to approx. 120m² or 1292sqft), such as open-plan living/dining rooms, stairways, offices and business premises, for example.
Works differently compared to conventional fans.
Just like a turbine, Vornado® produces a powerful stream of air. When directed at ceilings or walls (not at people), this is reflected, thus creating a pleasant temperature throughout the entire room, almost like a lovely sea breeze. The air is constantly in motion, creating an extremely pleasant atmosphere, whilst eliminating unpleasant direct draughts. It ventilates your room more quickly, economically and effectively.
A powerful, yet quiet motor drives the special rotor. Air is inducted at the rear and blown forwards in a concentric vortex action through the patented, spiral-shaped protective grille. This powerful fan only consumes between 29 and 53W (around a third of the energy used by many conventional appliances). This costs about 2 pence/hour, making it ideal for continuous use.
Even quieter than many computer fans.
Push-button controls regulate the 4 settings (600-1,375 rpm): From a gentle breeze to a powerful stream of air, but always amazingly quiet (50-61dB).
The black piano-finish, combined with chrome, will suit any interior.
Casing made of shatter-proof polystyrene. Easy to clean with a vaccuum cleaner. Measures approx. 28 x 34 x 38cm (11" x 13.4" x 15") (diameter x H x D), weighs approx. 3.3kg (7 lbs). 180cm (5ft9") 230V/53W cable. 5-year manufacturer's warranty in addition to our long-term guarantee.
Developed by aircraft engineers.
In 1988 the industrial and aircraft engineer Richard Ten Eyck, who also works for major American aircraft manufacturers, developed the unmistakable design of the Vornado®. Several of his projects are exhibited in the Art Institute of Chicago.
Provides a pleasant room climate all year round.
Most fans stand around unused for about 325 days a year. Not the Vornado® which provides a pleasant room climate throughout the year. In summer it refreshes you with a lovely breeze. In winter, the Vornado® air stream evenly distributes the heat throughout the room and warm air that tends to collect under the ceiling is churned downwards. This saves on heating costs and improves room climate. Vornado® is often used in the USA to help spread cool air from the air conditioning throughout the whole room.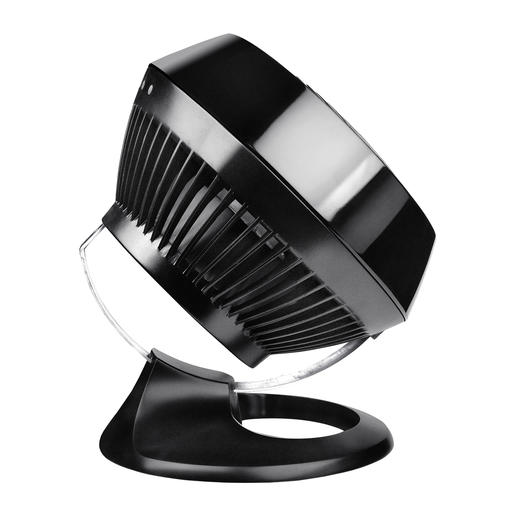 By Matthew W. on 13.08.2019
Powerful and well constructed
What can be said? It's a fan, and an effective one at that. My only complaint would be that the plastic exterior can quite easily pick up fingerprints, but that's nothing that can't be solved with the use of a damp cloth.
By pablo l. on 05.07.2019
Best fan available
Easily the best fan I've bought. Is noisy on full power but is quiet enough to sleep through on low and medium. Lowers temperature of the room very quickly and is easy to kepp clean
By Paula A. M. on 21.08.2018
Fabulous!
I was initially wary about this product, due to the fact it is manufactured in Kansas and reviews on some other websites state they have received USA wired fans which obviously won't function. I was confident however when I found Pro-idee and rightly so! They are UK based, great communicators and their fast dispatch ensured I received the best fan ever extremely quickly. It is reasonably quiet on the lower setting yet very effective indeed. It's airflow circles a fairly decent proportion of the room, resembling more so an air con unit than a fan. It's also tidy and sleek looking. You will be hard pushed to find a better fan than this!
By chris S. on 18.08.2018
Great product
This is the best fan you could buy, it's very efficient and surprisingly quiet. I'm so impressed that I'm buying another one for upstairs!
By Paul L. on 15.08.2018
Great fan
The fan is a good size and not to heavy. It moves air all around the room so you don't need it pointed at you. It is easily the most powerful fan I have ever had and I do not find it overly noisy even on the maximum setting. Highly recommended
By Paul L. on 04.08.2018
Highly recommended
Bought this to replace a pedestal fan which was not powerful enough in the current heat. This fan is extremely powerful, you can feel the air moving all around the room with the right placement. It is also smaller than I thought it would be and quieter than a conventional fan at full speed. Highly recommended
By Richard A. on 26.07.2018
Worth every pound in this weather!
I listen to music when working and looked for a fan which could be effective without making too much noise. This model has four speeds and even on the lowest setting works well and makes very little noise. On the highest setting the fan is obviously louder but circulates the air most efficiently. A higher setting, used in the hallway, is useful at night to cool the air in bedrooms (with the doors ajar) without disturbing sleep. I am sure that this is going to be useful in many ways even if summer 2018 proves to be a one off.
By Sandeep K. on 01.07.2018
Does what it says on the tin
Hi I have had this fan for a year now and have been very pleased with it in these hot summer months in England .... better than dyson in terms of creating a breeze ..... although dyson is more aesthetic ..... but at the end of the day the quality of breeze is what counts
By Richard E. on 12.06.2018
It works
I was slightly sceptical before purchase, but now I am sold! It creates a pleasant environment in what is a really hot flat in the summer. Very quiet, hugely effective.
By Hassan S. on 05.06.2018
Amazing and powerful Fan. Vornado 660
I have had several fans including Sanyo and Panasonic. I've always been interested and involved in electronics . I must say I have never come across a fan like Vornado 660, it does what it says. Amazing cooling power. Since then I've bought smaller model 630 for the bedroom. Prompt delivery and Very Good customers services.
By Susie H. on 20.04.2018
Brilliant!
Bought one of these in 2016 and forgot to write a review, so here goes. Having dogs, it's important to keep the house cool during the Summer months, so we've tried many different fans over the years, none were as advertised. This fan is brilliant, 10/10. 2016 was the first Summer we'd felt comfortable in years, and the dogs were able to carry on as normal. I really can't recommend this enough, if I had the money I'd have one for each room.
Older reviews from before the introduction of the star system are not taken into account in the overall review score
By Lewis S. on 11.06.2016
Great
Bought this fan recently as this appears to be the only retailer that carries a fan configured for the UK market (importing yourself will result in a burned out motor). Been using the fan for a few days now, and hands down it's the best one I've ever used. Definitely considering Vornado a staple for future fan purchases now. It does what it claims to do, and cools down a warm room with stale air into feeling fresh, which no other fan I have owned has been able to do. Almost considering buying a spare at this rate.