Hardwearing and environmentally friendly.
Spotlessly clean.
Hardwearing and environmentally friendly.
Spotlessly clean.
Once created for colourful beach sandals. Now a stylish doormat.
Handmade – in a unique mix of colours. 100% resistant to tread and weatherproof. Virtually indestructible.
This mossy, rubber-like plastic with its stripy design in black and fresh colours was originally produced for fashionable thong sandals. But instead of being used on the beach, it now has a new trendy use: As a chic, hardwearing doormat that will withstand any weather. And is relentlessly resistant to dirt – yet gentle on your floor.
Hardwearing and environmentally friendly.
These doormats are made of leftover material that is normally discarded after the sandals have been produced. Cut into 6.5cm (2 1⁄2") long pieces and joined by galvanised metal wires, it becomes a convenient hardwearing mat that doesn't absorb any water and won't become brittle or faded as a result of either frost or heat.
Spotlessly clean.
Its slightly raised contours will effortlessly clean the soles of your shoes. Dust and dirt conveniently accumulate in the gaps – and can simply be swept up or vacuumed. Mat height approx. 2cm (4⁄5"). Comes in 2 sizes: 57 x 91cm (22 2⁄5" x 35 4⁄5"), weighing approx. 1,800g (4 lbs) and 39 x 64 cm (15 2⁄5" x 25"), weighing 750g (1.7 lbs). Every doormat has slightly different colours which makes each one unique.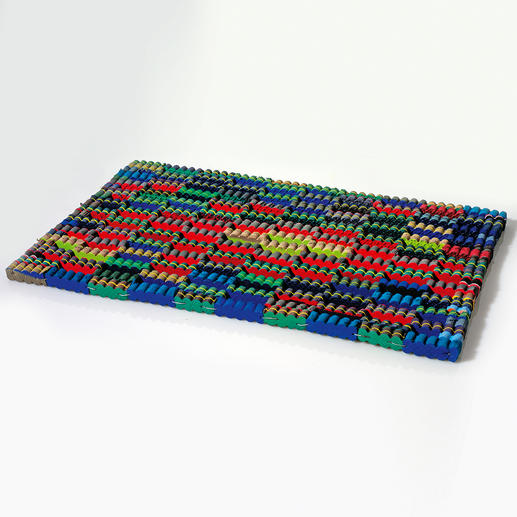 Be the first to review this product