05.04.2020 - We are still here for you. Standard delivery currently takes about about 5 to 7 working days. Mohr
Slug/Wasp and Fly Trap Bio-Catch
Slug/Wasp and Fly Trap Bio-Catch
One of the very few wasp traps that spares bigger hornets.
One effective weapon against 3 troublesome pests.
Highly effective beer trap for slugs and wasps.
Whether you have an invasion of slugs or a plague of wasps and flies, you can use this ingenious, diverse trap against these pests. There is no need for poison, chemicals or artificial baits.
Bio-Catch works with the well-established trapping principle using beer.
One of the very few wasp traps that spares bigger hornets.
Simply insert the protective strainer, fill up with beer and set up the trap or, for example, hang it from a branch. Irresistibly attracted by the smell, the wasps fly in, buzz around under the transparent bell, attract members of the same species and finally drown in the beer. The much larger hornets cannot get past the strainer. To fight voracious slugs, place the Bio-Catch without the strainer on even ground. The destructive pests creep into the trap through the opening in the bottom and cannot find their way out again. You can set up the traps at distances of 10m (33ft) from each other – an effective defence for vegetable patches. Made from weatherproof, easy-to-clean plastic. Size 16 x 18.5cm (6.3" x 7.3") (diameter x H), weight ca. 230g (8.1 oz).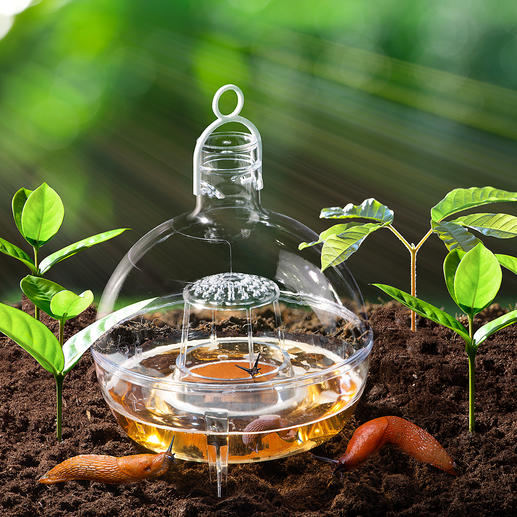 Be the first to review this product