These seed bombs will transform barren spaces into flower-filled meadows in 4 to 8 weeks.
Up to 25 native grasses, flowers, herbs, etc.
Seed bombs have their origins in "guerrilla gardening". The clandestine planting of derelict urban sites to combat drab cities started in New York in the 1970s. The former protest movement has now become the global trend known as "urban gardening".
Today, people also selectively scatter seed bombs in their own gardens, on their garage roofs, in window boxes, etc.
The next time it rains, the balls, which are made of topsoil, clay and seeds, become saturated with water. Within a few days, the first shoots will appear. And after 4 to 8 weeks – depending on the amount of sun and rain – the flower meadow will be in full bloom. The scent is wonderful and also provides ample food supply for bees, butterflies and other useful insects.
Handmade in Lower Saxony in Germany using regional products from organic farming.
Will also make a lovely gift at your next garden party. 48 seed bombs made of peat-free soil, loam and organic seeds, sufficient to cover around 6m² (65 sqft) – or hundreds of square metres if selectively distributed. Please do not sow until after the last night frosts in May. Winner of the Best New Product Award (non-food category) at BioFach 2011.
A selection of the included seeds:

Poppies
• Common poppy – Papaver rhoeas
• Corn poppy – Papaver rhoeas
• California poppy – Eschscholzia californica

Bee meadow
• Yellow yarrow – Achillea filipendulina Parkers
• Common yarrow – Achillea millefolium
• Sweet alyssum – Alyssum maritimum
• Alpine rock-cress – Arabis alpina white
• Wild garlic
• Lettuce leaf basil
• Marigold – Calendula officinalis
• Carpathian bellflower – Campanula carpatica
• Feverfew golden ball – Chrysanthemum parthenium goldball
• Elegant clarkia mixture - Clarkia unguiculata
• ...

Spring meadow• Yellow sunflower - helianthus anuus
• Red sunflower – helianthus anuus (Velvet Queen)
• Poppy – papaver rhoeas
• Marigold – Calendula officinalis
• Mallow – lavatera trimestris
• Buckwheat – Fagopyrum
• Cornflower – centaurea cyanus
• Borage - Borago officinalis
• ...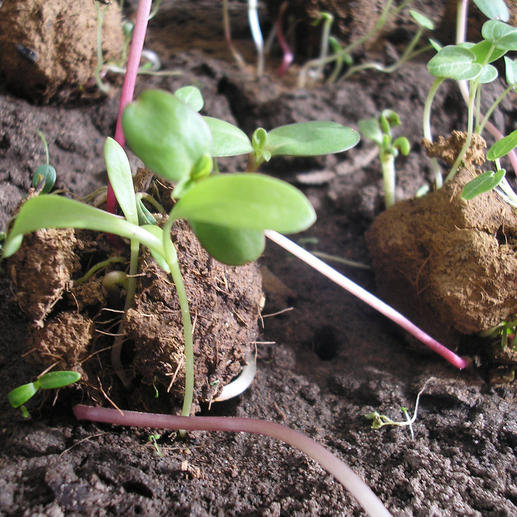 Be the first to review this product