Raised Bed Field Bindweed
Raised Bed Field Bindweed
Comfortable raised form: The Field Bindweed raised bed triples the usable area, and is as sophisticated as a piece of art.
Developed and patented by agricultural engineer Jan Lanvers. High-quality construction-grade steel with rusted look, made in Germany.
Vertical gardens are on-trend; easy to maintain and back-friendly, they produce lush growth and rich harvests, even in the smallest of spaces. Fortunately, there is now this raised bed which also appeals to design lovers and that will adorn your garden, balcony, patio like a piece of modern art.
Sculptural design made of almost indestructible construction-grade steel. Much more beautiful than rustic wood or simple plastic.
Elegantly twisting, 20 staggered terraces form a lively, artistic silhouette – and give your flowering and edible plants the best possible space to flourish. Walls made of 3mm (0.12") thick construction-grade steel contain the potting compost so it doesn't spill out. Robust to combat wind and weather, the construction-grade steel becomes even more beautiful over time. It quickly and naturally obtains an intensely reddish-brown rusted surface, which makes the smart material even more striking and interesting.
Surface of 1.25m², and offering 3.2 times(!) the usable area.
The terraced construction, up to 1m (39.4") high, provides an enormous increased surface area. Due to the winding shape, light, water and nutrients are used to the optimum at each level. Another advantage: You have to bend down and stretch less when sowing, planting, weeding, harvesting.
Whether bulbs, shallow or deep-rooted plants: The right location for every plant.
The upper parts offer particularly deep root space: Ideal for growing white radishes or tomatoes, for example. Also perfect for vines and hanging plants, even pumpkins and vegetables that love nutrient-rich, fertile soils. The lower levels are ideal for strawberries, herbs, radishes, spinach and lettuce. Especially beautiful when combined with flowers. So, you can always have both fresh: Splendid posies and healthy vegetables.
Top quality: Durable without the need for special care.
The 3mm (0.12") thick slot-in elements are laser-cut with precision from 3.7m² (39.8 sq. ft.) steel and have carefully deburred edges. All parts are sandblasted by the manufacturer to encourage the desired natural rusting process. You can also speed-up the process if you wish by using a rust accelerator (available in specialist shops).
Assembled without tools in only 10 minutes.
The 22 steel elements are simply slotted together. Size (H x W) when assembled: 102 x 100cm (40.2" x 39.4"). 19 side terraces up to max. approx. 17cm (6.7") W. Weighs a total of 87kg (191.8 lbs). From agricultural engineer Jan Lanvers and his family start-up Urbanga.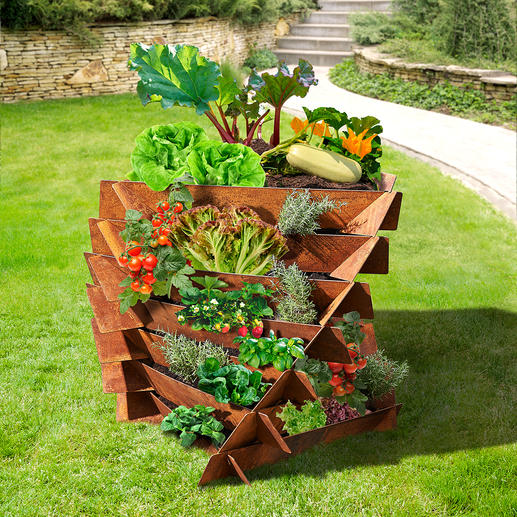 Be the first to review this product