Primus Sliding Shears with belt pouch
Totally clean, smooth cut.
Primus Sliding Shears with belt pouch
Totally clean, smooth cut.
Cut even the strongest of branches easily in one cut.
The new generation of garden shears – with roller transmission.
The roller makes all the difference: In combination with the curved guide slot, the pressure you apply is transmitted over the entire lever handle. This saves you approx. 30% of energy compared to conventional secateurs. Plus, it means that you do not have to squeeze the shears repeatedly, as is the case with a ratchet system. You will effortlessly cut even dry, hard branches up to 20mm in diameter. The ergonomically shaped handles are easy to hold and suitable for right and left-handers.
Totally clean, smooth cut.
The especially hardened carbon steel blade is stainless, super sharp, non-stick coated, and can be sharpened and is replaceable. Aluminium shears and handles. Safety lock. Size 20 x 5.5 cm (7.9″ x 2.2″) (L x W), weight only 195g (6.9 oz). Incl. belt pouch worth £9.95.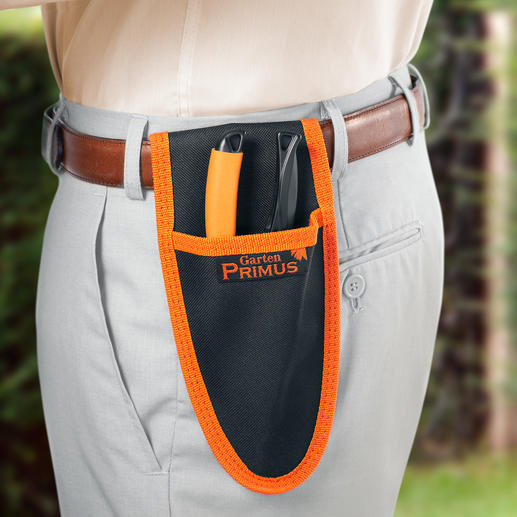 By Rod B. on 09.10.2018
Excellent product
These Sliding Shears (Secatours) are just what I needed and do the job perfectly, much better than the Secatours I normally use. The only problem was the tracking site, according to the site the item was stuck in the mail sorting office in Holland, even when they had been delivered to me in the UK. Not good enough.