Finally: The hanging basket with a straight, modern design.
For hanging and displaying. With large water reservoir. Made from sturdy, weatherproof plastic.
Other hanging baskets often look severely outdated next to contemporary architecture and modern garden design. his basket looks much younger and fresher, on the other hand. Perfect for urban chic and cool ambience – just as appealing as a contrast to charming old building and mid-century style.
Trendy layered look: Combines two colours and pot sizes simply and with no frills.
You can select an outer pot in elegant anthracite or white. The slightly raised, light green inner pot makes a colour contrast. The mix of smooth and matte, unbridled and structure highlights the modern look.
Extra large water reservoir, which can conveniently be filled the whole way around, makes sure your plants get the water they need.
The outer pot holds up to 1.9 litres of water. Thanks to the inner pot, your plants always soak up the right amount of water – but never get their feet wet. An indicator lets you know when it is time to fill up again.
Removable, adjustable strap as an original detail idea.
Tightly woven from polypropylene: UV-resistant, weatherproof and robust. Height adjustable. Without the strap, it is a perfect floral decoration for your sideboard, table or window sill. Pot and outer pot made from high-quality, outdoor-safe polypropylene. Easy to clean with gentle lye. Measures 29cm (11.4″) diameter, 19.8cm (7.8″) H, strap 90cm (35.4″). Weighs 0.95kg (2.1 lbs).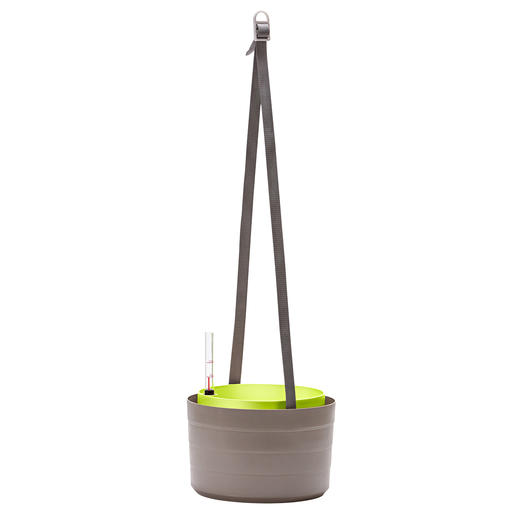 Be the first to review this product