XXL Three-legged Sunbed
Extra high, extra long, extra wide.
XXL Three-legged Sunbed
Extra high, extra long, extra wide.
Extra high, extra long, extra wide.
XXL aluminium three-legged sunbed for extra comfort.
You won't ever want to get up from this ultra-comfortable lounger. But when the doorbell rings, you'll be up in no time: With the huge 207 x 72.5cm (81.5" x 28.5") lying surface (instead of the usual 190 x 63cm (74.8" x 24.8") even tall people feel comfortable. And thanks to the comfortable height of 40cm (15.7") you can get up much more easily than from the usual height of approx. 30cm (11.8").
Can take up to 130kg (286.6 lbs), yet it is pleasantly light.
Aluminium tubes with a diameter of 22mm (0.9"). Three 75cm (29.5") wide aluminium brackets with two plastic feet each. Safety joints in the folding mechanism. Nine tear-resistant tension straps. Skin-friendly fabric. Elegant look. The fact that it's made in Italy is a guarantee for excellent design and high-quality construction: No rusting, no tipping over, no risk of injury, just a feeling of wellness and relaxation.
Lie in the way that is most comfortable for you.
Simply lock the rear bar in the middle position and fold in the foot bar: Your three-legged sunbed becomes a back-friendly relaxation bed. Or position the legs either higher or lower. You can vary the classic horizontal position by raising and lowering the backrest in three stages. The separately available neck roll relieves the pressure on the neck and back and provides additional comfort when reading, taking a nap, etc. An adjustable belt on the back ensures a firm hold without slipping.
Weatherproof, tear and UV-resistant fabric made of polyester threads that are covered with PVC.
The firm, yet airy structure does not allow heat to build up, even at high temperatures. Dries quickly. Easy to clean with soapy water. Fabric made of 77% PVC and 23% polyester. Measures when set up 207 x 75 x 40cm (81.5" x 29.5" x 15.7") (L x W x H), folded 77 x 61 x 20cm (30.3" x 24" x 7.9") (W x H x D). Weighs 5.9kg (13 lbs). Colour: Sage. Design: Francesco Favagrossa. Neck roll measures approx. 5 x 19 x 9cm (23.2" x 7.5" x 3.5") (L x W x H), weighs approx. 380g (13.4 oz).
The perfect complement: Side table in a sophisticated C shape.
In addition to your sunbed, the 40cm (15.7") high table offers a spacious storage space for your book or magazine, your drink, sunglasses, ... Also ideal for breakfast or a snack while you are enjoying the sun. Aluminium frame, 33 x 36cm (13" x 14.2"). Table top made of powder-coated metal. The C table measures 40 x 40 x 40cm (15.7" x 15.7" x 15.7") (L x W x H) and weighs approx. 1.6kg (3.5 lbs). Easy to wipe clean.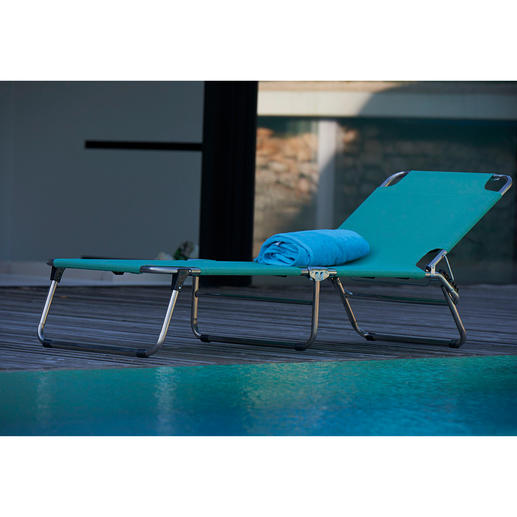 Be the first to review this product