Recycled Stepping Stones, set of 4
Recycled Stepping Stones, set of 4
Lighter than real stones. More durable than wood: Stepping-stones made from recycled car tyres.
Deceptively natural looking. Fast and easy to lay. Sustainable.
Whether as a garden path, in a flower bed or for the driveway – the robust recycled material looks just as good as natural stepping-stones, but has many advantages: It does not need a level surface, but adapts to slightly uneven ground. Moreover, they cushion each step and when wet, their surface is less slippery. The stepping-stones are also weatherproof, UV resistant and temperature resistant from -50°C to + 50°C.
"Natural stone" without the risk of breakage.
The grey stepping-stone has – as found in nature – irregular contours and is 1.5cm (0.6") thick, measures approximately 58 x 39cm (22.8"x 15.4")) and weighs 2.7kg (6.0 lbs).
Maintenance-free "wood", resistant to moss, insects and fungus.
The stepping-stones with a railway sleeper appearance have a brown wood grain and are 1.9cm (0.7") thick, measure 60 x 25cm (23.6" x 9.8") and weigh 2.7kg (6.0 lbs). Made in Europe from recycled car tyres.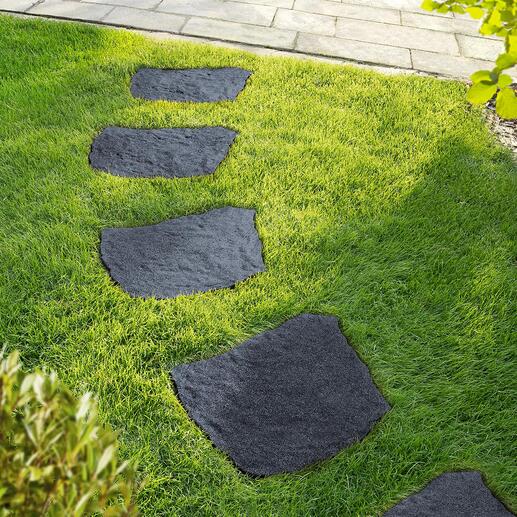 Be the first to review this product