06.04.2020 - We are still here for you. Standard delivery currently takes about about 5 to 7 working days. Mohr
Most beautiful Italian design: The free-hanging bird bath made of Granicium®.
Handmade in Germany, supported and covered by sturdy stainless steel. Open all around for unrestricted flying in and out.
Hung simply by the strong stainless steel hook on your balcony, pergola or directly in a tree, the trough will soon be swarmed with titmice, robins, sparrows & co. The 40cm (15.7″) long mounting bracket and the smooth stainless steel roof keep predatory visitors away. The open design gives you a clear view of the lively hustle and bustle. Also ideal for giving children an understanding of bird watching.
High-strength fired ceramic: Hard and robust like granite. Non-slip. UV-, frost- and weatherproof down to -50 °C (122 °F).
A top product from the highly qualified Ceramic Workshop Denk, in Coburg. To make it, 2cm (.8") thick CeraNatur® ceramics are coated with Granicium®: A high-quality material made of granite granulate with the hardness, resistance and noble look of the natural stone. And its characteristically rough surface provides optimal hold for the birds.
Free-hanging and neatly covered in the stainless steel bracket.
All metal parts are made of matte stainless steel. A groove in the bowl holds the bracket made of 8mm (.3″) round steel in place. The conical stainless steel roof keeps contamination (and predatory enemies) away from the basin. The stainless steel mounting bracket ensures stability even in strong winds. Easy to clean with gentle lye. Measures 28.5cm (11.2″) in diameter, 65cm (25.6″) H. Weighs 5kg (11 lbs). 15 year guarantee on the weather resistance of the ceramics. Design: Luca Galmarini, designer and ornithologist.
The Granicium® - elaborately produced and made of granite granulate - was already awarded the coveted MATERIALICA Design + Technologie Award (in the category Material) in 2011.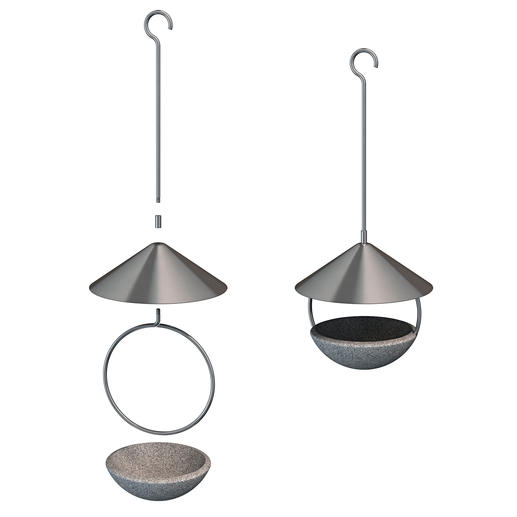 Be the first to review this product