Goodbye but not Farewell ...
As a result of the Brexit, Pro-Idee is temporarily closing its UK online shop (www.proidee.co.uk) until further notice. We apologise for the inconvenience. Everything you might want to know about the situation is to be found in the FAQs below. It will surely help you navigate through this change and answer the most frequent questions you might ask yourself regarding ordering, shipping, delivering and many other areas which are impacted by the closing of our online shop. As we remain committed to curating a unique selection of high quality products, we invite you to continue shopping in our German, French, Dutch, Austrian or Swiss online shop if you wish to have your order delivered to an address outside the UK. We thank you for the continuous support throughout the years and we hope to be able to reopen our UK online shop in the near future.
Floor Bird Feeding Station
Feed. Protect. Observe.
No direct ground contact. Less contact with soil moisture.
Feed. Protect. Observe.
The ideal feeding place for a variety of native bird species. Cleverly designed and easy to clean.
Blackbirds, larks, song thrushes and robins all have one thing in common: They prefer to eat on the ground. Simply place this feeding station on the ground or the lawn and fill with the appropriate bird food. The arched roof made of transparent acrylic glass protects the feathered friends from the weather while allowing you to enjoy an unobstructed view of the hustle and bustle of the birds.
No direct ground contact. Less contact with soil moisture.
Due to the cleverly arched roof construction, the feeding bowl "floats" approx. 2cm off the ground. Any rainwater that comes in sideways is easily drained thanks to the steel mesh. The bowl can be removed for cleaning. Made of sturdy plastic and stainless steel. Assembled in max. 5 minutes. Size approx.37 x 18 x 15cm (14.6" x 7.1" x 5.9") (L x W x H). Weight approx. 520g (1.1 lbs).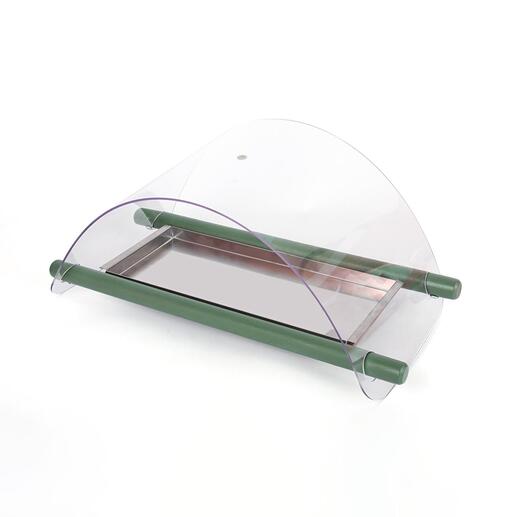 Be the first to review this product