06.04.2020 - We are still here for you. Standard delivery currently takes about about 5 to 7 working days. Mohr
CeraNatur® Wild Bee House
CeraNatur® Wild Bee House
Nesting aid for endangered beneficial insects - the wild bee house made of CeraNatur® ceramics.
Quality for decades. Handmade in Germany.
Every day, diligent bees help to make your garden more beautiful and productive, pollinate your flowers, fruit trees, shrubs, ... Offer endangered beneficial insects a species-appropriate storage facility for their eggs.
63 woodpecker-safe nesting tubes without sharp edges.
The enemy of the bee, with its pointed beak, cannot harm the extremely hard natural ceramic which has been fired for strength. Due to the holes of different diameters, almost every species of bee can find its own individual shelter. The smooth flight holes pose no risk of injury.
15-year weather resistance guarantee.
The sandstone-coloured CeraNatur® ceramic is waterproof, fungus-resistant, UV and frost resistant (down to -50°C). It stores heat during the day and releases it at night. Supplied with tree-friendly suspension rope. Size (W x H x D): 18.5 x 9 x 18cm (7.3" x 3.5" x 7.1"). Weight: 3.5kg (7.7 lbs). Made in Germany.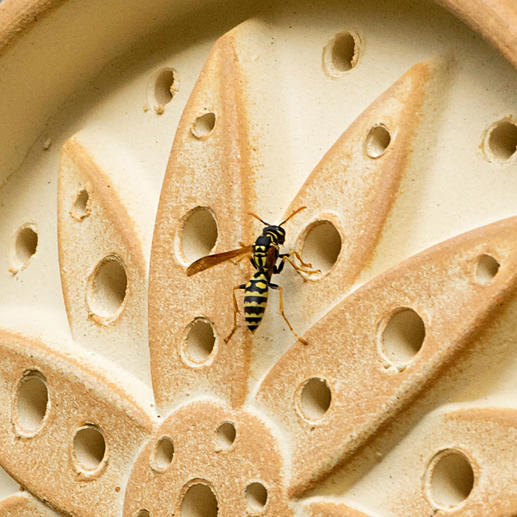 Be the first to review this product