Cazador-del-sol Sun-catcher
Cazador-del-sol Sun-catcher
These mysteriously shining sun-catchers are spectacular at big events – and in your garden.
The light is created purely by daylight. Original by Cazador-del-sol, made in Germany.
Like a yellow starry sky, a flood of warm light ("Cazadores") shines through the sparse forest. Quietly, the stars sway in the wind – and enchant every observer. These sun-catchers have already become much admired pieces of art at many events. Now you too can beautify your garden or planter with these charming lighting effects.
Pleasantly warm, enchanted lighting – without battery, without solar panel.
No cable or power socket needed. The secret of the sun-catcher is fluorescent acrylic glass, which converts the invisible, short-wave spectral component of daylight into visible light. Even a small amount of light is enough. Also perfect to brighten the gloom in the dark winter months.
Suitable for outdoor use all year round. Frost and heat resistant, shape-retaining and colourfast – with 30 years manufacturer's warranty.
No comparison to cheap goods – often of dubious origin: Cazador-del-sol sun-catchers come from the best of German production. 100% weatherproof and UV-stable, they can stay outside all the time. The material withstands severe frost (down to -50°C) as well as extreme heat (up to +120°C). Size of the star (H x diameter) 13 x 20cm (5.1" x 7.9"). Weighs 200g (7.1 oz).
Also available as sun-catcher discs with unbreakable swinging rod.
Just stick the transparent swinging rods with a diameter of 6mm (0.2") made of fibreglass-reinforced plastic in your planters, flower beds, lawns, etc. When the wind blows, a beautiful combination of calmness and harmony begins. 175cm (5.7 ft) H. Disc: 20cm (7.9") in diameter, 3mm (0.1") thick. Each weigh approx. 200g (7.1 oz). Easy to clean with mild alkali. Design/creator: René Hildebrand.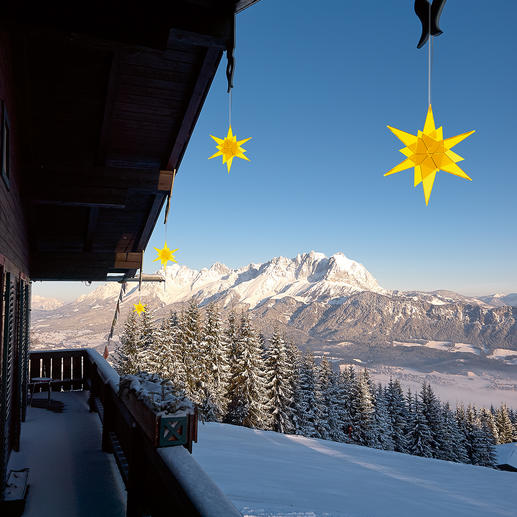 Be the first to review this product