Good news for hungry birds.
In 1987, the bird-feeding bell by Professor Stephen Clarke was acclaimed as one of the "50 most beautiful inventions" in the USA. And it isn't just beautiful, it also has a really clever design. In traditional birdhouses, the food gets dirty and wet very soon and can pose a danger to birds. This bell, however, has a feeding place right inside, which protects the seeds from rain and snow, and the feeding channels are positioned in such a way that excrements can't get into the seed.
The construction is designed to also keep away unwanted guests, such as pigeons and cats.
This allows your feathered friends to eat to their hearts' content in peace. Simply add the feed via the side dispensers. It will not be long before these birds start arriving and then you can watch all the comings and goings through the transparent Plexiglas® (acrylic glass).
The side dispensers will take up to 1kg (2.2 lbs) of seed, which means that you won't need to fill the bell very often. The feed channels are automatically replenished as the birds peck out the seeds. The bell is easy to assemble and attach to any tree. Easy-clean plastic, 32cm (12 1/2") high, 36cm (14 1/4") diameter.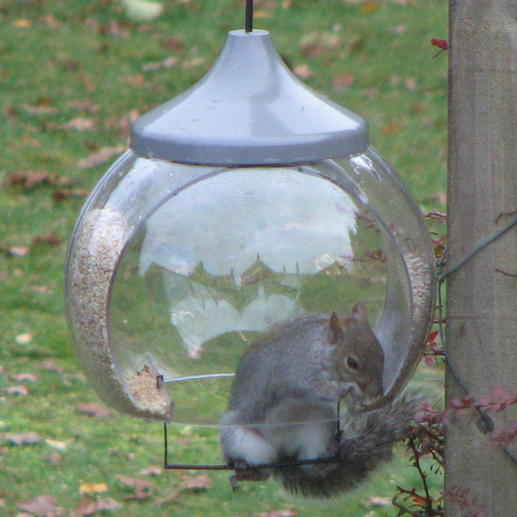 By Farideh F. on 26.07.2019
A delightful aethetic object.
I have bought many of this bird feeder over the years. It is delightful to watch the birds feed, until after 3 years squirrels got wise to it and took over from the birds and totally ate every thing in it!.( made delightful Video shots)It has now been moved to a place where the squirrels can no longer access it. I see that in this years site of Pro Idee they correctly show a squirrel too, hence not totally for birds only.
Older reviews from before the introduction of the star system are not taken into account in the overall review score
By Brian S. on 02.03.2014
Superb Product
I've had one of these feeders for the last ten to fifteen years. I was very surprised to read the many adverse comments. In my experience, the only thing we have lost over the years is the little strut for the birds to stand on. They don't need it now and fly straight into the feeder landing on the edge. I fill it with peanuts. The thing is amazing. The flights of blue tits that come in to feed, it is like Gatwick Airport the queues waiting to land and fly into the feeder. I can get wet inside in very poor weather but most feeders have this issue. Hence we use peanuts instead of seed. Been looking for the product so I can get another two. It took me a long time to track it down again.
By Anne L. on 12.12.2011
Shunned by my Birds
I bought the bell a couple of years ago, first time out I gave up after a few weeks, the birds avoided it like the plague, and I had to dismantle and clean the bell on a couple of occasions, the moisture in the air was absorbed by the uneaten seed which sprouted or went moldy. Since my old faithful bird feeder was finally destroyed by a squirrel this year I decided to try the bell again, I put it up in October, the same reaction as before and yet more fiddly cleaning, one of the fierce winds brought it down and the centre pole snapped, if it had worked I would have fixed it, but...
By David W. on 19.07.2009
Bell Bird Feeder on You Tube
I have written two reports on the Bell. but not seen them printed. So have now done some video of it in action. One where it defeats the attention from a squirrel and the other, with a constant stream of blue tits feeding from it. Hope that you will watch it to see how good this feeder is.
By David W. on 15.07.2009
Success with Bell Bird Feeder
It has taken a long while for the birds to start using the feeder. I would watch birds hovering outside the ball. not know that the way in was underneath. So I repositioned it in a bush, suspending it with a longer wire hook, so that it was in light branches, to light to support a squirrel. which when one tried the branches just lowered it away. Once a young family of blue tits found how to use it. Success. now it is a good job that it holds a lot of food. Some of which are wax balls that I flake so that they can be used in the feeder.
By James M. on 18.03.2007
Finally the birds have figured out its a feeder!
Having slated the product in my earlier review, it is only fair to add this addendum: In a final attempt to encourage the birds to use it, I hung it a day or so ago in a fruit tree in the orchard - an adventurous blue tit climbing up the peanut feeder which I had hung internally to attempt to encourage them to at least have a look at the bird Bell, has discovered the seeds which the bell dispenses, and so hopefully others will follow its example. So don't despair if at first no birds pay any attention to it. This has taken more than two months, and the design itself cannot be faulted in terms of keeping the seeds dry.
By James M. on 14.03.2007
Beautiful design - but all the birds in our garden are terrified of going anywhere near it!
My wife bought me one as a gift this year. In the month or so it has been out not one bird has gone anywhere near it - I suspect they are frightened of its shiny surface. Our garden was full of chaffinches, siskins, a robin, and bluetits. Since this feeding bell has been hanging outside nnear their normal feeding area, they seem to have deserted the garden, for the most part. It is a very clever design, in that it keeps the seed dry, and if the birds could ever figure out how to take the seeds, it would be wonderful. I have tried dangling a peanut feeder within it, as well, in the hope that from the peanut feeder they would transfer their attention to the seed bell, but to no avail. You need to bring this problem to the attention of the designer, for there is little point in having a beautiful design that in terms of function is entirely useless.