Bird Feeder "Viewing Window"
Bird Feeder "Viewing Window"
Urban, modern, made of brushed stainless steel: The bird feeder with panoramic windows on both sides.
Different layers of feed make interesting patterns with shapes that constantly change.
With this feeding station, you create an unusual eye-catcher in your garden or on your terrace. As attractive to you as an art object with an ever-changing look. For your feathered guests, a sumptuous buffet -  featuring various delicacies. The birds can pick their favourite food without being disturbed by cats.
Fascinatingly picturesque, created from grains.
Remove the slate roof, and let variously coloured grains and types of feed of all sizes trickle into the storage space. Through the acrylic glass panes, you can see how the grains layer in a variety of ways. In no time, the birds will find your feast and can sit comfortably on two beechwood perches.
During the lively feast, new image structures emerge all on their own.
The grains constantly tumble downwards, so new designs are always being formed. The 3-litre store offers plenty of space.
Wind and weather resistant, made of the best materials.
The brushed stainless steel feed house withstands rain, snow, frost and heat. It can even withstand gusts of up to 120km/h (75 mph) without damage (as long as it is securely attached). Front and rear pane made of 3-mm thick acrylic glass. Slate roof. Two beechwood perches. Measures oblong: 31 x 19.5 x 14cm (12.2″ x 7.7″ x 5.5″), with slate roof 40 x 20 x 20cm (16″ x 8″ x 8″; L x H x D). Measures square: 14 x 30 x 29,5 cm, with slate roof 40 x 20 x 20cm. Weighs approx. 4kg (8.8 lbs). Incl. inclined 150cm (60″) stainless steel rod for anchoring to the ground. Very easy to wipe off.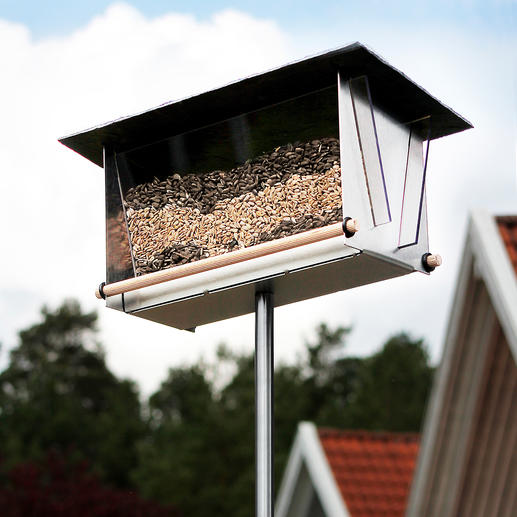 Be the first to review this product