Barlooon All-weather Lantern
Barlooon All-weather Lantern
These lanterns are a beautiful highlight that embellish your garden all year round.
Effective soft glow – without weathering or rotting.
No comparison to common paper lanterns, which often survive for only one season: These lanterns look great, emit a soft light – and are, above all, weatherproof. So you can enjoy their spectacle every season, year after year.
Huge, elegant flower balls. Made of materials used in shading technology.
Specially adapted to the European climate, the material is an extremely robust, linen-like embossed film (375g/m2). It is colour-fast and resistant to UV, heat and cold (from +70 °C to -30 °C). The material is also abrasion-resistant and immune to mould and fungal attack.
High-quality like the most expensive folding awnings.
The fan-shaped sections are cut to shape and carefully stitched together individually. Strong stainless steel and plastic rods keep the ribs firmly in shape. Large, weatherproof stainless steel eyelets and robust stitching ensure a perfectly fanned curve. The carabiner is for suspending securely.
Easy to clean.
Once dirty, simply clean the lanterns with a gentle detergent.
Decorative on trees and pergolas. Perfect for flower beds and lawns using the stainless steel spike (can be ordered separately).
Available in 2 sizes: 30cm (11.8") in diameter or 50cm (19.7") in diameter. Weighs 440g (15.5 oz.) or 1.060g (2.3 lbs). An LED solar module for mounting is available separately.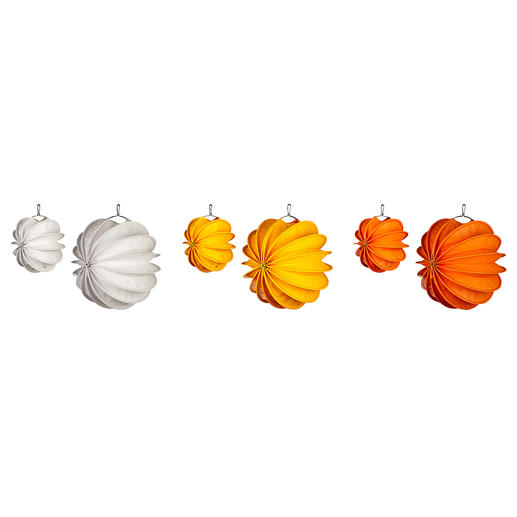 Be the first to review this product