08.07.2020 - You may experience longer delivery times due to the current circumstances and logistic difficulties that are out of our control. Further details are available on the webpage of each product. More
STRYVE Designer Sitting Ball
Healthy sitting can be this stylish.
STRYVE Designer Sitting Ball
Healthy sitting can be this stylish.
Healthy sitting can be this stylish.
The award-winning* designer sitting ball in a noble antique leather look.
Forget about the many unappealing rubber balls. This premium-quality sitting ball supports an ergonomically correct posture – and thanks to the brown cover in an antique leather look, it even suits up-scale living areas and work spaces.
The innovative pendulum effect prevents unintended rolling.
Due to the increased weight on the inside, the STRYVE ball balances itself out. It will never roll away but always stay in its allocated place.
Easy back training.
Take a seat on the pleasantly firm, air-cushioned globe. Your upper body will straighten right away and assume the correct posture. In doing so, it balances the movements of the sitting ball. That way, you'll continuously exercise your muscular system: The strain on your back is relieved, thereby preventing tension. It also gets your circulation going – you'll improve your fitness and concentration.
Anti-slip surface for a firm hold.
The grain imitation leather can be cleaned by wiping it off with a damp cloth. The label serves as a practical handle. The separately available electric air pump inflates the ball within minutes. Holds weight of up to 150kg (330 lbs). Suitable for a body height of 155-185cm (5-6 ft). Measures 65cm (26″) in diameter. Weighs 2.2kg (4.9 lbs). Colour: Brown.

*iF Design Award 2018 in the Product category.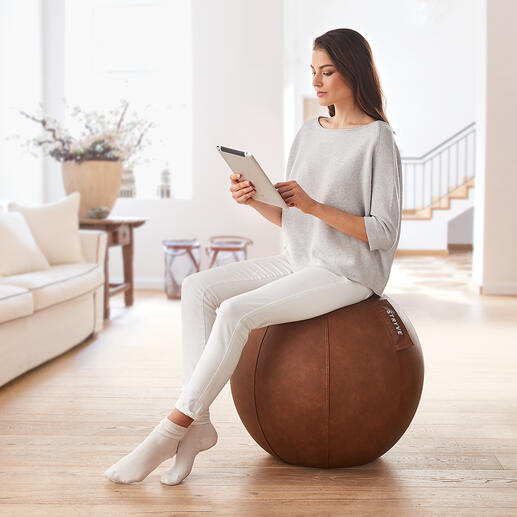 Be the first to review this product