Three actions, one minute, zero assembly and your Christmas tree is ready.
Bang on-trend natural look: The 1.90m (6.2 ft) high wooden spiral. When folded, it can be stored in any cupboard.
With this wooden spiral tree you can create a Christmassy atmosphere in no time, for your home, in your office or as a Christmas tree in a holiday cottage.
Just put it together – that's all.
Put the 23mm (0.9") thick wooden pole in the stable wooden base cross. Now let the spiral descend gently from the tip of the pole to the ground. Immediately, the spiral orbits the pole in 14 elegantly curved tiers.
Natural unadulterated look. Precise laser cut plywood.
The friendly light wood tone exudes warmth and cosiness. Nothing is glued or pieced together: The spiral is cut exactly 72cm (28.3") wide out of the full, 5mm (0.2") thick plywood using state-of-the-art laser technology. Winding and pitch are consistently precise: The spiral remains rigid without sagging.
Trend topic sustainability. Great in many interior styles. Reusable.
The simple design goes well with shabby chic, Nordic and country house furniture, design classics, romantic and cool interiors.
Decorate with your own tree ornaments. Or with the separately available pendants.
Notches are incorporated every 1cm (0.4") of the carefully smoothened wood – as a secure place for the tree decorations. Just as perfect with a string of lights – or simply on its own.
Stores flat in the cardboard box to save space.
Cardboard box measures only 5 x 75 x 75cm (2" x 29.5" x 29.5"; H x L x W), when set up the tree measures 190 x 72cm (74.8" x 28.3"; H x diameter). Weighs 2.8kg (6.2 lbs). Birch wood base and pole. Plywood spiral. Wipeable with a soft cloth.
Available separately:
The 158-piece (!) pendant set.
Deer, sleigh, bell, snow crystal, fir, ... the most beautiful Christmas motifs, lovingly made of plywood and felt. Approx. 3 - 7cm (1.2" - 2.8") in size. In total approx. 0.4kg (14.1 oz). Incl. hanging cord.
The magnificent top star made of solid birch wood.
Size (L x W x D): 9.6 x 3.5 x 11cm (3.8" x 1.4" x 4.3"). Weighs 90g (5.6 oz).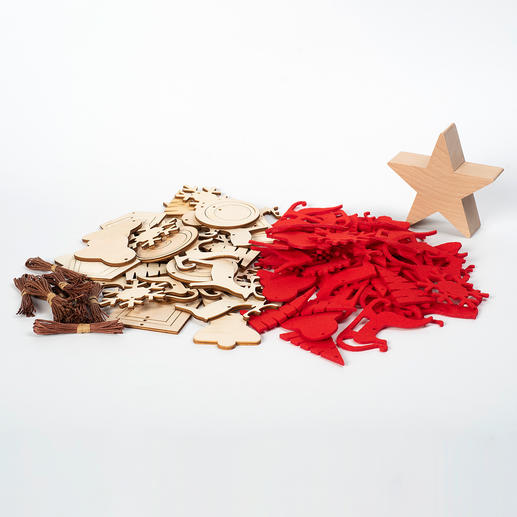 Be the first to review this product