Probably the most beautiful Christmas classic – now in a modern, high-gloss design.
Modern and very elegant instead of multicoloured and conventional. Perfect for any interior.
Three deer move light-footedly with an acrobatic motion in the candlelight of the Christmas pyramid. As if from a winter wonderland, the ensemble revolves amid towering celestial arches. A dreamlike choreography that radiates playful charm and at the same time clean modernity.
Bright spectacle for tables, sideboards, desks, company receptions, etc.
The candlelight is elegantly reflected in the generously proportioned structure made of high-gloss polished stainless steel. This gives the deer's dance a new, modern interpretation – anything but kitschy.
Impressive dimensions – but open, lightweight and quiet.
Seven blades bring the 16cm (6.3") or 24cm (9.4") large wind turbine in motion – powered solely by the rising warm air of the candle flames. Placed at different heights, the deer seem to fly past them light-footedly, lap after lap: A beautifully vivid image that commands attention. Sturdy holders (2.2cm (0.9") in diameter, 3.7cm (1.5") H) ensure the white candles (sold separately, 17.5cm (6.9") H) won't tilt. Pyramid in two sizes: 47cm (18.5") H, 42cm (16.5") in diameter. 3 candle holders. Weight: 3.2kg (7.1 lbs). Or an impressive 69cm (27.2") H, 56cm (22") in diameter. 4 candle holders. Weight: 5.5kg (12.1 lbs). Made of stainless steel and aluminium. Easy to clean with a soft cloth.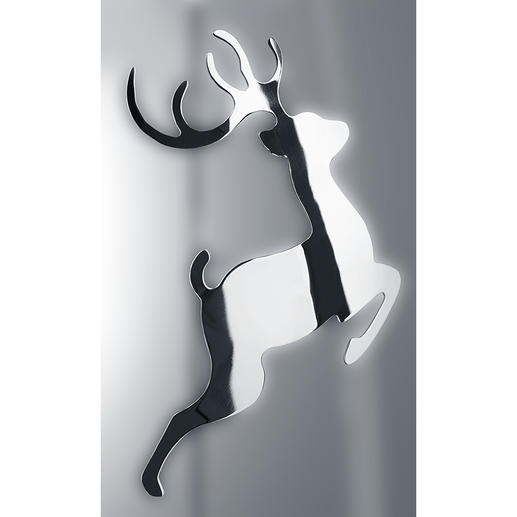 Be the first to review this product