08.04.2020 - We are still here for you. Standard delivery currently takes about about 5 to 7 working days. More
The brilliant Wax Melter: Intense flames – even with leftover candle stubs.
Handmade in Germany. Withstands wind and weather, for outdoor use all year round.
Definitely nothing like most conventional storm lamps and their meagrely flickering flames: When you light your Wax Melter an intense flame emerges that even a strong gust can't blow out. An exquisite decor on your terrace, at the entrance to your home, in the snow-covered garden … You can even use leftover bits of candles as fuel.
No messy lamp oil, no expensive gas cartridges (as needed for conventional garden torches).
A 6cm (2 1⁄5") in diameter aluminium burner encloses a permanent wick made of inflammable glass fibre. The warmth of the flame heats the aluminium which in return melts the wax around it. The Wax Melter is already filled with ca. 1kg (2.2 lbs) stearin wax which burns around 36 hours (refill pellets separately available). When you melt leftover candle stubs the wicks will sink to the base so you don't have to remove them beforehand. If you like you can add a drop or two of naturally scented or insect repelling oil.
Shaped by hand. Extremely hard. Suited for outdoor use all year round. Withstands frost.
Lavasand mixed with ore is what gives the CeraLava® ceramic its lovely dark colour. Once it is formed into shape it is fired at 1,250°C to make it extremely hard. Height 14.5cm (5 7⁄10"), 20.5cm (8") in diameter. Wax fill weighs around 4.3kg (9.5 lbs). Colour: Charcoal.
The material Granicium® is made of genuine granite which is ground and then shaped. Once it has been fired it becomes extremely hard just like granite. Distinguished with the "Design Plus Award". Height 14.5cm (5 7⁄10"), 19.5cm (7 2⁄3") in diameter. Wax fill weighs around 3.9kg (8.6 lbs). Colour: Stone grey.
Each melter is supplied with a 22cm (8 2⁄3") diameter lid in the same material to snuff the flame and to protect from rain, snow and dirt. The lid can also be used as a base plate. Each lid weighs ca. 800g (1.8 lbs).  Do not use indoors.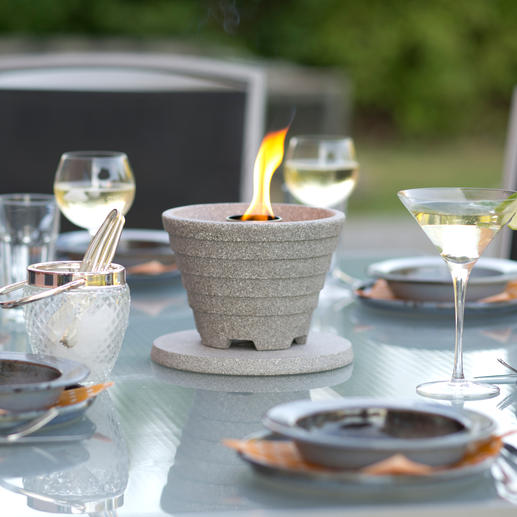 Be the first to review this product