Star Magic Table Runner and Placemats
Star Magic Table Runner and Placemats
Effectively embroidered instead of printed: The festive Christmas reversible table linen.
Worked in two layers, with elaborate star embroidery and breakthrough pattern. At an amazingly low price.
Whether in trendy anthracite or Christmassy red: This table linen turns every day into a celebration – from Advent to January. Doubled in grey and embroidered with the same design, the sets and the runner have two beautiful sides. This means they are reversible in positive/negative optics and achieve a completely new look.
Silky machine embroidery gives the star designs shine and a subtle glitter.
The fine embroidery thread forms expressively shimmering star contours, filigree quilted outlines and delicate lace embroidered areas. The embroidery always picks up the second fabric colour.
Artfully worked in a breakthrough pattern.
The star inner surfaces are cut out along the embroidery contours. This way, the colour of the second layer of fabric is revealed, creating a very decorative effect.
Finely mottled. Easy-care. Crease resistant. No warping or running-in.
The melange tones are less sensitive than plain colours. Fine thread thickenings produce the typical fine-grained feel. Meticulously quilted. Dimensions of the placemats approx. 35 x 50cm (13.8″ x 19.7″). Each weighing 100g. Table runner approx. 50 x 150cm (19.7″ x 59″). Weighs 380g (0.84 lbs), 100% polyester.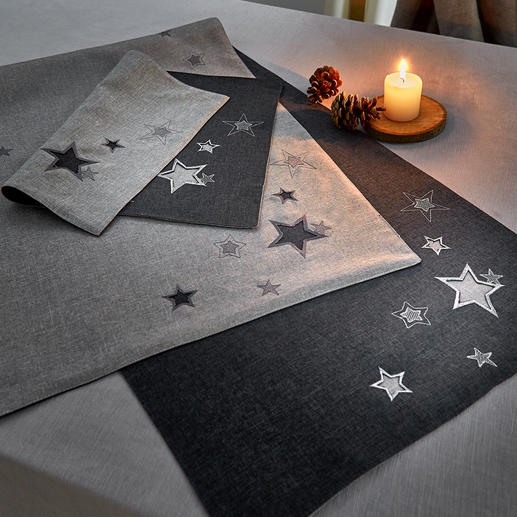 Be the first to review this product