Mysteriously glowing: Huge Christmas baubles with 100 tiny sparkling LEDs.
Lights that shimmer like stardust amidst the fine glass baubles.
Switch on the string of micro LED lights within the huge baubles and numerous, fine dots of light shine in the festively shimmering gold or red-tinted glass. The tiny LEDs are fixed to a fine wire (10m (32.8ft)) which is barely noticeable through the tinted glass. The lights seem to float in the bauble, creating a magically glowing atmosphere.
8 working modes ignite a firework of delicate lighting effects.
Choose from the different light modes by simply pressing a button on the battery pack. In the respective mode, the lights start flashing, flickering, etc. Thus, each mode gives the baubles a new character.
Easy to carry, steady in place.
Depending on the size of the bauble, the lively tinted glass has a wall thickness of 3-6mm (0.1"-0.2"). The flattened bottom keeps the bauble steady in place, but makes it look as if it is slightly tilted to the side.
Even when turned off, a real eye-catcher for a window, fireplace, table and staircase.
Each LED light string works with 3 AA batteries each (sold separately). Size: 20cm (7.9"), 25cm (9.8") and 30cm (11.8") H. Weight: 1.1 (2.4 lbs), 1.5 (3.3 lbs) and 1.8kg (4.0 lbs). Design: Lexis Kraft.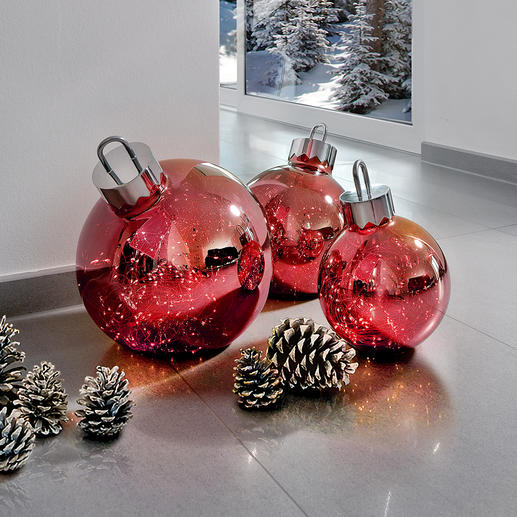 Be the first to review this product