04.04.2020 - We are still here for you. Standard delivery currently takes about about 5 to 7 working days. Mohr
10 Christmas story motifs, designed by Marcel Wanders.
Porcelain ribbon and eyelet elaborately coated by hand with a silvery finish.
Perfect for your Christmas tree. Just as suitable for decorating garden bushes, hanging from a window, chimney, chandelier…
10 Christmas story motifs, designed by Marcel Wanders.
Porcelain ribbon and eyelet elaborately coated by hand with a silvery finish.
Perfect for your Christmas tree. Just as suitable for decorating garden bushes, hanging from a window, chimney, chandelier…
Heralding the holiday season in style: Alessi's Christmas bells made from the finest porcelain.
In addition, they tell the Christmas story. In welcoming colours, with a ribbon silver-coated by hand.
Enjoy the most beautiful festive decoration with these enchanting pendants – where you have the Christmas story right in front of you. The elaborately designed motifs vividly portray the angel and the holy family, the stall in Bethlehem and the star that led the Three Wise Men the way to the manger. It is also an apt way to make the story accessible for children.
10 Christmas story motifs, designed by Marcel Wanders.
The Dutch star designer (born in 1963) created the motifs showing his love for detail. Composed in imaginative patterns, they appear as if applied with a fine paintbrush. The range of cosy colours emits warmth and creates a friendly atmosphere.
Porcelain ribbon and eyelet elaborately coated by hand with a silvery finish.
For this reason, the glossy silver shines brightly and stays permanently beautiful without the need for time-consuming cleaning.
Perfect for your Christmas tree. Just as suitable for decorating garden bushes, hanging from a window, chimney, chandelier…
Baked at 1400°C, the porcelain obtains a shining, hard surface that makes it sound as clear as a bell. Available separately. The set "Christmas story" contains 10 motives: Jesus, Mary and Joseph, angel, star, ox and donkey, as well as the Three Wise Men. Each measures 7.2cm (2.8″) in diam., 8.5cm (3.4″) H. Each weighs 65g (2.3oz). Hand washing recommended. Delivered with fine, silver-coloured hanging cord.
Marcel Wanders (*1963).
The designer was a successful product designer at a young age. In 1996, he had his breakthrough in the international design industry with one of his most famous products: The "Knotted Chair". Wanders' pieces are exhibited in various museums.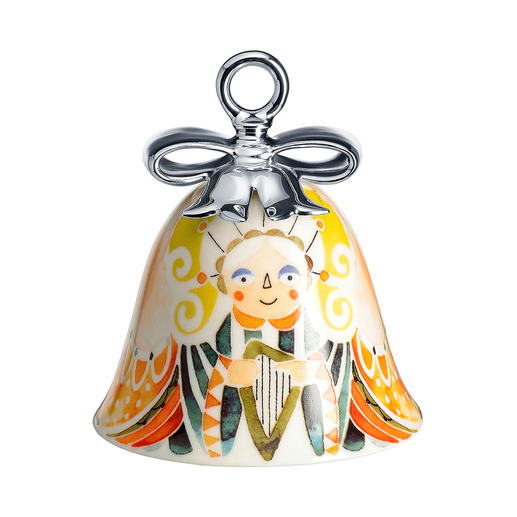 Be the first to review this product