06.04.2020 - We are still here for you. Standard delivery currently takes about about 5 to 7 working days. Mohr
Nothing like plain plastic stools.
Non-slip even on wet surfaces.
The perfect stool: Elegant acrylic design – amazingly versatile. Perfect in any setting.
Sturdy, 100% waterproof, comfortable ergonomic shape. For indoors and out.
At last, a shower seat you won't need to hide. On par with the most prestigious designer furniture, it even looks good in the luxurious surroundings of a bathroom and spa where it is close to hand as a convenient seat in your shower or steam room. Also handy when dressing and undressing in the bedroom or guest room – or whenever you need comfy extra seating, e.g. at large parties on the terrace or in the living room.
Nothing like plain plastic stools.
With its elegant curves, the ergonomically shaped stool looks like a modern sculpture – and the glossy finish makes it very classy. Yet the 12mm (0.5") thick acrylic plastic is extremely tough, 100% waterproof and its colour won't fade. It's a breeze to keep clean: Simply wipe down with a damp cloth and it's spotless again. No seams for dirt and dust to hide in.
Non-slip even on wet surfaces.
Wide, seamless side panels with matching protective rubber feet keep the stool steady. Measures 45.5 x 39.5 x 30cm (18" x 15.5" x 11.4") (H x W X D). Weighs approx. 6.2kg (13.6 lbs). Bears up to 120kg (265 lbs). In 2 classic colours.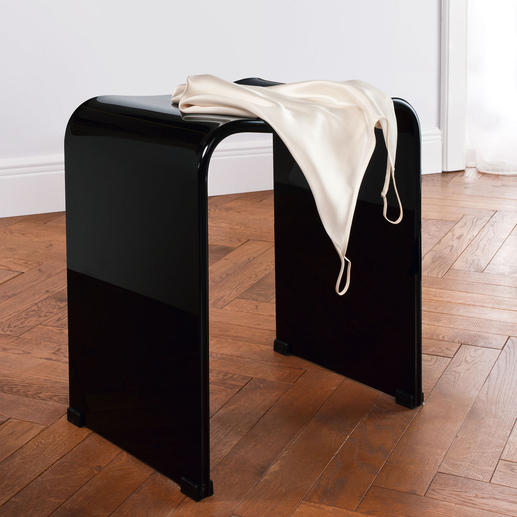 Be the first to review this product