Aubade The Bow Hipster Panty, Triangle Bra or Boxy-Shirt
Aubade The Bow Hipster Panty, Triangle Bra or Boxy-Shirt
Lingerie meets haute couture – at an affordable price.
Parisian lingerie for everyday use. Exclusively designed for Aubade by luxury label Viktor & Rolf.
In contrast to the sculptural, artfully draped haute couture robes by Viktor & Rolf, these affordable underwear creations can also be worn in everyday life. The bow is the trademark of the Dutch designer duo. It is a recurrent theme throughout the 25 years of joint work. And so it is also the leitmotif and eponym of this special edition for the Parisian lingerie label Aubade: The Bow Collection.
Seductively feminine, with an avant-garde touch.
Instead of the playful lace, graphic laser-cut applications and plastic embroidery on a modern mesh back. In addition, flat satin bows adorn the underbust band of the triangle bra and the waistband of the hipster underwear. Effective interplay between contrasts: The colours night black and candy pink.
The black shirt in the Boxy-Cut is an elegant fashion piece.
It completes the lingerie set, but also fits perfectly under the tuxedo blazer and high waist jeans.

Shirt: 100% polyester embroidery. Bra: Embroidery and tulle front in 100% polyester. Back tulle made of 80% polyamide, 20% elastane. Panties: Embroidery in 59% polyester, 30% polyamide, 11% elastane. Crotch made of 100% cotton. Tulle made of 80% polyamide, 20% elastane. Hand-washing applies to all components.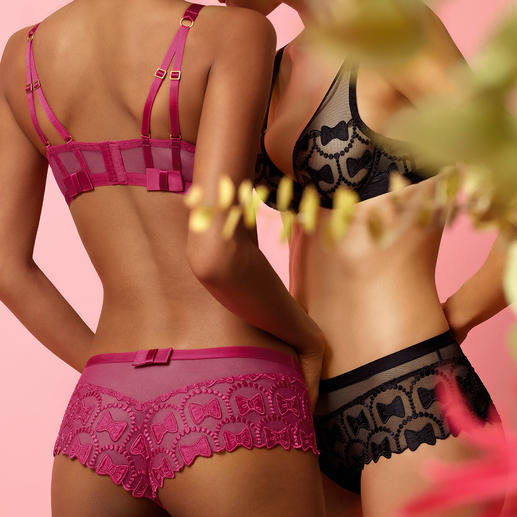 Be the first to review this product