New look for the classic chino: Now with a wide leg and in rare Pima cotton.
All the attributes of the all-time classic chino: The typical beige shade, the popular shape and the airy, light twill. What's new is the wide leg. It gives the old classic a modern, casual touch. And in contrast to many chinos that are now so fashionable, this one is made of high-quality Pima cotton.
Finer, more colourfast and wonderfully soft to the touch.
Mostly reserved for elegant lingerie or luxury shirts, Pima cotton is rarely processed into trouser fabric. The premium fibre gives the chino an elegant, silky matte look. The contemporary cut and the delicate beige make them a real combo-talent: Suitable for the office with an elegant blouse and pumps, or laid-back in your leisure time with a shirt and sneakers. With a crease and side pockets.

Casual chino style with wide leg. Inseam in size 12: 80cm (31.5″). Leg width at hem: 52cm (20.5″). Colour: Light beige. 98% cotton, 2% elastane. Machine washable.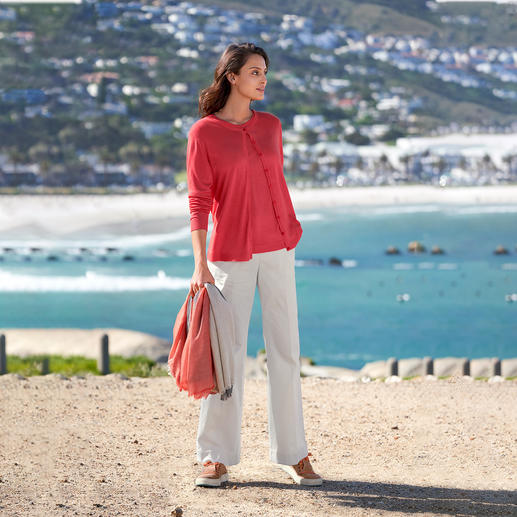 These on-trend pieces go well with 'Wide-Leg chino':
Be the first to review this product