05.04.2020 - We are still here for you. Standard delivery currently takes about about 5 to 7 working days. Mohr
Pinko Similpelle 7/8-length Trousers
Pinko Similpelle 7/8-length Trousers
Soft and stylish like leather, but easier to care for and cheaper: The fashionable 7/8-length trousers made of "Similpelle" by Pinko.
Ever since it was founded in the 1980s, Pinko has focused on vegan alternatives to leather. Now the topic is a huge trend – and the Italian It label is well ahead of others. The material is supple and soft like the most expensive leather, and resistant to scratches and stains. Simply wipe away dirt with a damp cloth. And instead of costing £400 or more, these trousers are only £129.95. The fashionable 7/8-length trousers with small side vents look great with summery flats as well as with boots and ankle boots.

Figure-hugging fit without pockets. Inseam in size 8: 68cm (26.8″). Leg width at hem: 36cm (14.2″). Colour: Black. Shell: 100% polyester. Lining: 67% acetate, 33% polyester. Hand wash.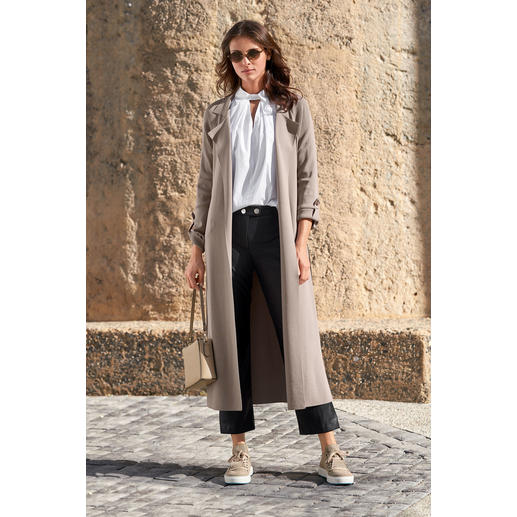 These on-trend pieces go well with 'Pinko Similpelle 7/8-length Trousers':
Be the first to review this product