Michèle Salt & Pepper Trousers
Michèle Salt & Pepper Trousers
Comfortable on the sofa. Ideal for work. Elegant in the evening. And always in perfect shape.
Uncomplicated and versatile pull-on trousers made of soft viscose jersey with a chic tweed look.
What looks like sturdy woollen tweed is actually an ingeniously uncomplicated, modern viscose jersey in a classically elegant salt & pepper design. The high-quality blend with polyester and a hint of elastane looks sophisticated, hardly creases, and is resistant to abrasion, pilling and bulging. The trousers are sensationally lightweight and pleasantly soft on the skin.
Suitable for any occasion. At work, for leisure, in the evening – and also ideal for traveling.
The elegant black-and-white pattern is more versatile than plain fabric, as well as being easy to combine and hides marks or stains better. The fashionable wide leg makes the trousers even more comfortable.
Easy-care: Wash in the machine, dry and give them a quick iron and they're ready to wear again. The elasticated comfort waistband is a little wider and follows your every move, without digging in or pinching. Two slanted pockets.

In a comfortable cut with wide leg. Inseam in size 12: 82cm (32.3"), leg width at hem: 48cm (18.9"). 54% viscose, 44% polyester, 2% elastane. Machine washable.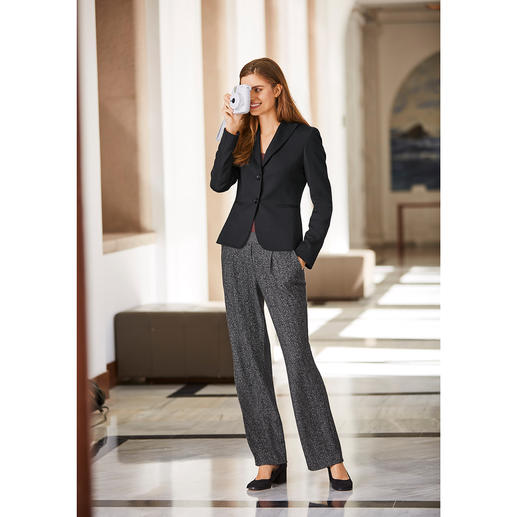 These on-trend pieces go well with 'Michèle Salt & Pepper Trousers':
Be the first to review this product