RAPHAELA-­BY-­BRAX Magic Waistband Trousers Mini Check
RAPHAELA-­BY-­BRAX Magic Waistband Trousers Mini Check
Probably the most comfortable trousers you'll ever own: The Magic Waistband trousers by ­Raphaela-by-Brax.
Invisible reserve waistband width plus power-stretch effect.
While classic elasticated waistbands usually give the game away through unsightly gathers, this magic waistband remains your secret. Wear fashionable 5-pocket trousers that hug your figure – and still enjoy some additional room in the waistband.
Looks just like an ordinary waistband.
Figure-friendly high waist with stitched hip yoke, rear darts and belt loops. The piped back pockets add a feminine touch and make your rear look extra firm.
Perfect comfort thanks to power-­stretch cotton.
The soft material follows every move and won't restrict you in any way. The blue/white mini check pattern looks fresh and much more interesting than plain colours.

Straight cut with slender and shortened leg and extra waistband width. Inseam in size 10R: 69cm (27.1″). Leg width at hem: 25cm (9.8″). 97% cotton, 3% elastane. Machine wash. Colour: Blue/White.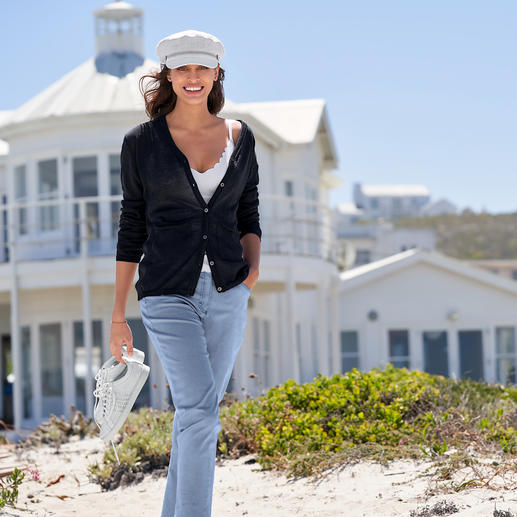 These on-trend pieces go well with 'RAPHAELA-­BY-­BRAX Magic Waistband Trousers Mini Check':
Be the first to review this product