04.04.2020 - We are still here for you. Standard delivery currently takes about about 5 to 7 working days. Mohr
Mandala Wrap-Over Cardigan, Top or Leggings
Mandala Wrap-Over Cardigan, Top or Leggings
Comfortable enough for yoga, tai chi and the sofa. Chic enough for the fanciest spas and studios.
The three-part loungewear set by Mandala, Munich.
Sporty, comfortable, resilient, durable, ... Many loungewear collections satisfy these requirements. However, the wellness outfits from the Munich brand Mandala also pass the critical scrutiny of fashionable society ladies, stars and celebrities. They are worn in the spas of the finest hotels, in the trendiest yoga studios and smart beach clubs.
Ethically made.
In accordance with yoga philosophy, Mandala treats people and the environment with care, forgoes the use of pesticides and chemical fertilisers in the cultivation of their cotton, and uses dyes with few emissions according to the Öko-Tex Standard 100. The jersey for the leggings is made using recycled PET bottles. It has a wide, soft waistband. With an unusual printed motif of paisley-like floral and botanical ornaments. The feminine wrap-over jacket is made of a blend of soft viscose and cotton. The fitted top has an eye-catching sophisticated back neckline with elasticated straps.

Inseam of the trousers in size 10: 67cm (26.4"). Colour: Shades of rust and brown with violet. 90% polyester, 10% elastane. Length wrap-over cardigan in size 8/10: 58cm (22.8"). Colour: Apricot. 50% modal, 50% cotton. Length top in size 10: 34cm (13.4"). Colour: Rosewood. 95% cotton, 5% elastane. All items are machine washable.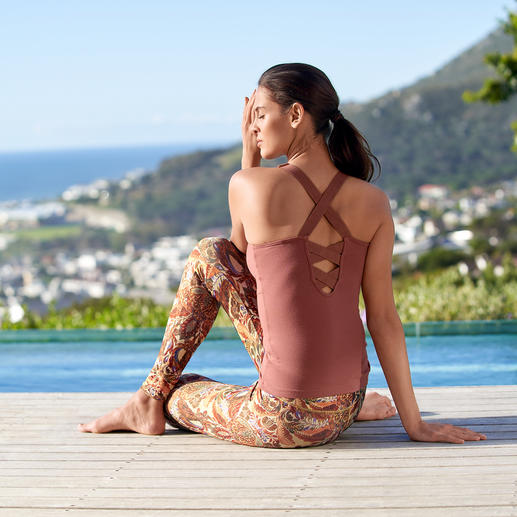 Be the first to review this product