A classic with a modern look: Bouclé pencil skirt in the trend colour pink.
Both the fashion perennial pencil skirt and the couture favourite bouclé are stylishly up-to-date again. The combination of these two classics looks surprisingly new and modern because of the unusual colour pink. What's more, while it looks plain from a distance, it's in fact a subtle blend of pink, red and a hint of black in the background, making the skirt visually interesting and easy to combine.
High quality material blend with many advantages. At a pleasingly low price.
Alpaca, wool and mohair give the bouclé its typical texture and on-trend fluffy character. The synthetic fibres add colour brilliance and shape-retention. The skirt is just the right length for a casual look with sneakers as well as a business outfit with boots or heels. A concealed slit at the back enables ample freedom of movement.

Figure-hugging cut with back zip fastener. Length in size 10: 58cm (22.8″). Colour: Pink/mottled. 23% acrylic, 20% alpaca, 15% polyester, 14% viscose, 10% mohair, 10% wool, 8% polyamide. Lining: 94% polyester, 6% elastane. Dry clean only. Exclusive to Fashion Classics.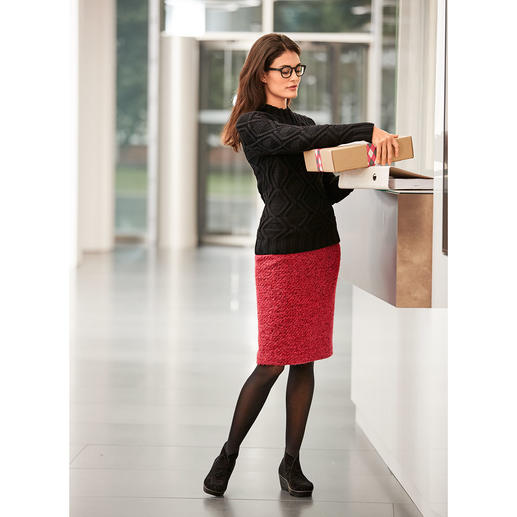 These on-trend pieces go well with 'Bouclé Pencil Skirt':
Be the first to review this product