The cult moccasins from 1964 in today's on-trend look.
The original Grashopper from Sioux. Made from fashionable metallic-effect leather.
With the revival of the styles of the 60's, the iconic moccasin from the Swabian shoe manufacturer Sioux has also returned to the fashion world. Its visible features: A striking thick seam, the naturally shaped design and the flexible crêpe sole. Its inner values:
Plenty of space for the toes. Soft shock absorption. New lightweight design.
On the occasion of its fiftieth anniversary and the sixtieth anniversary of the Sioux company, the designers have given the successful Grasshopper model a lighter sole structure and a new, modern look. As always, the Grasshopper is carefully and durably crafted – from 38 parts in 150 production steps. Comfortable fit with two-eyelet lacing.

Colour: Brass. Upper, lining and insole: Calfskin leather. Outer sole: Natural rubber.
Sioux – pioneer in the field of new comfort.
When company founder Peter Sapper introduced the first Grasshopper in 1964, elegant shoes with a pointed toe were in fashion. The design giving more space for the toes exactly matched the revolutionary spirit of the young generation. The comfortable moccasins became a huge success. Its distinctive crêpe sole is responsible for its name: the resilient effect which occurs when walking is reminiscent of the way a grasshopper moves.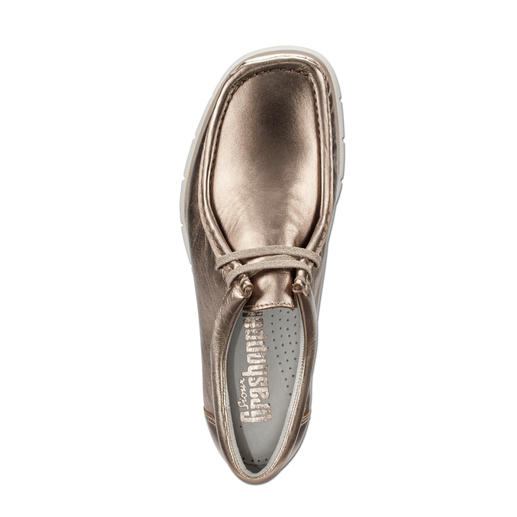 Be the first to review this product