Authentic knitting handicraft from Ireland – traditional and trendy at the same time.
The Diamond sweater with turtleneck. By Carbery in Clonakilty.
Plastic "Diamonds" meets the current knitwear trend. However, they are not simply a fashionable pattern, but an authentic classic of Irish hand knitting art – a symbol of success and prosperity. The high fitting turtleneck is one of the most important collar forms of the season.
The silhouette is exceptionally slim and feminine for a sweater.
And the mix of materials makes it light and soft: silky, delicate viscose reduces the warmth of the thick wool to a level suitable for indoor use. Cashmere gives the soft feel, nylon the durable shape. Fully-fashioned form-knitted, with wide ribbed hems.

Waisted shape. Length in size 12: 60cm (23.6″). Colour: Black. 35% viscose, 30% wool, 25% nylon, 10% cashmere. Hand wash. Exclusive to Fashion Classics.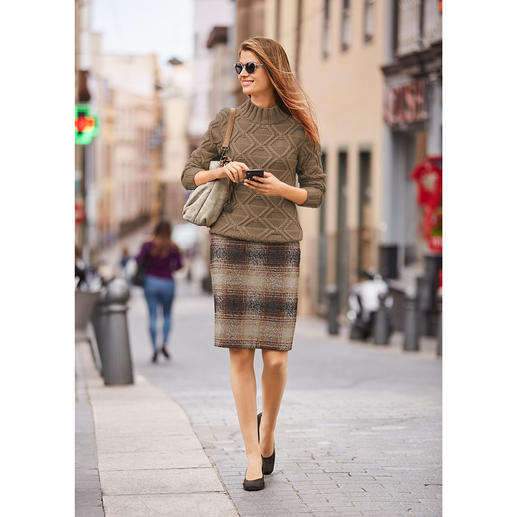 These on-trend pieces go well with 'Carbery Diamond Sweater':
Be the first to review this product