05.07.2020 - You may experience longer delivery times due to the current circumstances and logistic difficulties that are out of our control. Further details are available on the webpage of each product. More
IVKO Jacquard Jacket Alpin Flowers
Exceptional multicoloured jacquard knit.
IVKO Jacquard Jacket Alpin Flowers
Exceptional multicoloured jacquard knit.
Exceptional multicoloured jacquard knit.
A truly unique piece from Serbia. By IVKO.
Even in Peru or the Far East, knitwear in this many colours is hard to find. The Serbian company IVKO, which started as a small family business in 1986, knits on machines that are specifically designed for multicoloured jacquards. This is a niche market and one in which the company has successfully established itself internationally.
Made of the finest virgin wool.
Wonderfully lightweight, stretchy and with an evenly beautiful surface. For a perfect fit, the front, back and sleeves are washed after they've been knitted, dried and then tailored. The inside is smooth and free from annoying threads. The neckline and button panel are double-layered to strengthen them.
Timeless pattern. Easily combinable colours.
The mix of floral patterns in shades of blue with the colours beige, berry, coral and curry looks folksy yet modern. The jacket goes well with jeans and casual chinos as well as elegant dresses and skirts. Close on seven buttons in herringbone pattern. The multicolored floral embroideries at the back are real eye-catchers.

Slightly tailored A-line shape. Length in size 12: 61cm (24″). Colour: Multicoloured. 100% wool. Hand wash only. Made in Serbia.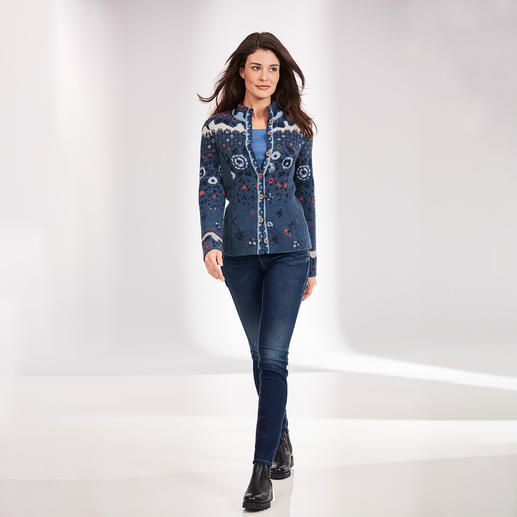 These on-trend pieces go well with 'IVKO Jacquard Jacket Alpin Flowers':
Be the first to review this product