Wunderfell Merino Lambskin Jacket, Taupe
Wunderfell Merino Lambskin Jacket, Taupe
Exquisite design. Affordable premium lambskin of European origin and manufacture.
One of only 13 pieces from the small, fine collection of Wunderfell, Munich.
There are many affordable, mass-produced lambskin jackets, but a designer piece such as this, from a limited small series, in such an exquisite quality and at an affordable price, is not easy to find. We have only ever seen comparably beautiful items from shockingly expen­sive luxury brands.
The lighter the more valuable.
At just under 1.100g (2.4 lbs) in size 12, this Merino lambskin jacket is much lighter than the average weight of comparable designs. Only the highest quality Merino skins left over from the production of food are used. Carefully selected, environmentally friendly tanned and long-lasting, they become beautiful, light and cuddly-soft items.
Decorative thanks to the long fur on the collar and edges. Slimline thanks to the flat-cut interior.
The opulent collar, the curved edges and the toning embroidery in an ethnic style give the coat a fashionable and casual touch. High closable jacket with four buttons to keep you warm. Two piped slash pockets.

Slightly flared design. Length in size 12: 78cm (30.7"). Colour: Taupe. Genuine merino lamb. Specialist dry clean only.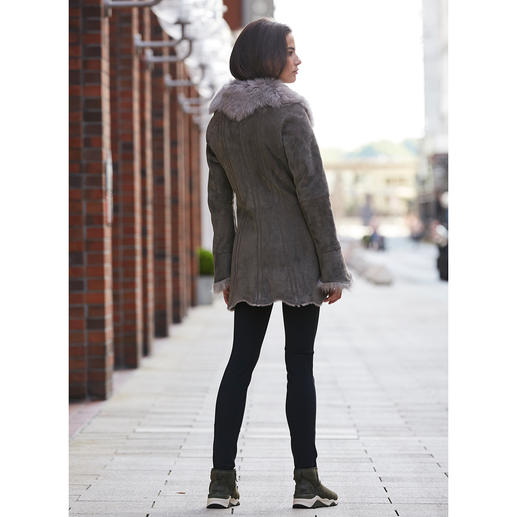 These on-trend pieces go well with 'Wunderfell Merino Lambskin Jacket, Taupe':
Be the first to review this product