05.04.2020 - We are still here for you. Standard delivery currently takes about about 5 to 7 working days. Mohr
Studio AR Kid Suede Leather Coat
Studio AR Kid Suede Leather Coat
The perfect fashionable spring coat: Velvety soft kid suede leather, unlined.
Premium quality at a pleasingly low price.
The clean-cut, straight style coat in fashionable length can now be found in many designer collections, but rarely are they made of leather, and certainly not from such an exquisite leather. The fine, delicate kid suede has seldom a velvety finish. As a result, the coat is supple, slimline and casual.
At designer labels, you can easily pay £1,000 for a comparable design.
Unlined processing requires selected smooth skins, because only flawless leather skins can be used when the reverse skin is on show. The inside is fully smoothed – for protection against colour and leather abrasion.
Versatile, easy-to-combine piece in the trend colour khaki.
An instant fashion update for every boring outfit and a style upgrade for simple jeans and T-shirt combinations. Perfect for when a winter coat is too warm, a cardigan too cool and a mid-season jacket is too sporty.
By Studio AR.
The new line of the Aykaz brothers is aimed at the fashion-oriented leather lover with high standards in quality and fit.

Slim, straight style with subtle seam pockets. Length in size 10: 93.5cm (36.8"). Colour: Khaki. Kid suede leather. Specialist dry clean only.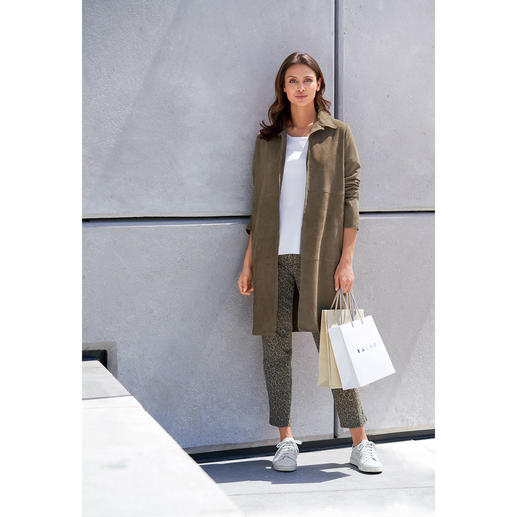 These on-trend pieces go well with 'Studio AR Kid Suede Leather Coat':
Be the first to review this product