Alpaca Double Face Duffel Coat
Alpaca Double Face Duffel Coat
The classic duffel coat. But fashionably soft and lightweight. And even reversible.
Woven from wool and precious Peruvian baby alpaca.
While most duffel coats are heavy and sometimes scratchy, this one is wonderfully soft and lightweight: The wool fabric contains a generous amount of exquisite Peruvian baby alpaca. The delicate fleece of the baby animal stores body heat especially well. And it feels pleasantly weightless.
Only 700g (24.6 oz). Unlined. And yet wonderfully warm.
The rare luxury yarn has a fine shimmer and remains beautiful in the long term. It is extremely durable, pilling and wear resistant and almost completely odour repellent. Perfect for a piece of clothing that you'll enjoy wearing often.
Two beautiful sides. For twice as many outfits.
Your new duffel coat is reversible: In classic black that goes with everything. In royal blue for a fresh spot of colour in the grey autumn weather. Large hood. Two spacious pockets and black toggle buttons on both sides.

Colour: Black/Royal Blue. Length in size 12: 82cm (32.3″). 47% wool, 40% alpaca, 13% nylon. Dry clean. Made in Peru. Exclusive to ­Fashion ­Classics.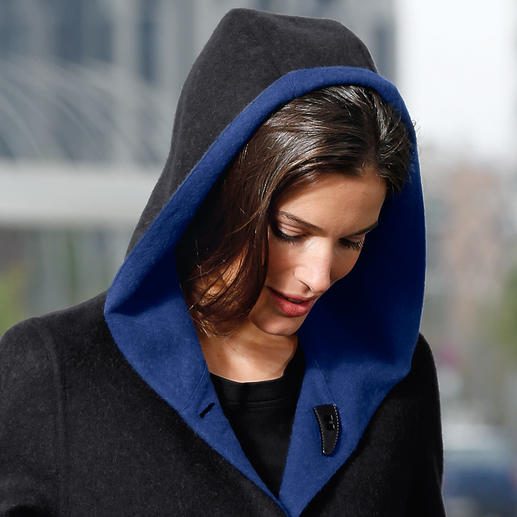 Be the first to review this product