29.05.2020 - You may experience longer delivery times due to the current circumstances and logistic difficulties that are out of our control. Further details are available on the webpage of each product. More
NVSCO Cropped Trousers, Shift Dress or Couture Blazer
These three basics will enrich your wardrobe enormously.
NVSCO Cropped Trousers, Shift Dress or Couture Blazer
These three basics will enrich your wardrobe enormously.
These three basics will enrich your wardrobe enormously.
Blazer, trousers and dress in a contemporary cut, perfect fit and made of comfortable material that is ideal for travelling. By NVSCO.
Whether it's another day at the office, a holiday or business trip, wedding invitation or Sunday brunch: These three items mean you will be prepared for any occasion. Combine the blazer and trousers with a blouse and brogue-style shoes for a smart look or go for something more sporty/modern with a T-shirt and sneakers. Worn solo, the blazer goes beautifully with chinos and jeans, and the trousers go well with a pullover or cardigan. The dress becomes a couture classic with the blazer. Boots and a leather jacket give it a casual look. The dark navy colour does not look as harsh as regular black and goes with all colours.
The crease-free material is contemporary, soft and comfortable.
It does not attract lint and is almost completely resistant to pilling. Ideal even when travelling: Your outfit is in great shape, whether you have been sitting in a car or on an airplane for hours, or when it comes out of a fully packed suitcase.
Finally, a blazer that does not look like a modified man's jacket.
The short couture shape is ideal for skirts and dresses, and also for flared trousers. The ¾-length sleeves are extremely comfortable in the warmer months. And the little bows soften the business-like formality.
Fashionably on-trend: The straight, shorter trousers.
Thanks to the permanent crease, the look is suitable for business. The waistband has belt loops and a tab with hook and button.
Two French pockets. One back pocket with button fastening.
The shift dress is the perfect, flattering knee-covering length.
Serious but not staid. Flattering for any age. Good with high heels and flats. The tailored silhouette is emphasised by shaping panel seams. Two slash pockets. Round neckline. Drop shoulder. Zip fastener at the back.

Size in size 10: Length of the jacket: 55cm (21.7"). Inseam of the trousers: 69cm (27.2"). Leg width at hem: 42cm (16.5"). Length of the dress: 96cm (37.8"). All items made of 63% polyester, 27% viscose, 7% cotton, 3% elastane. Lining: 57% viscose, 40% polyamide, 3% elastane. Dry clean only. Colour: Navy.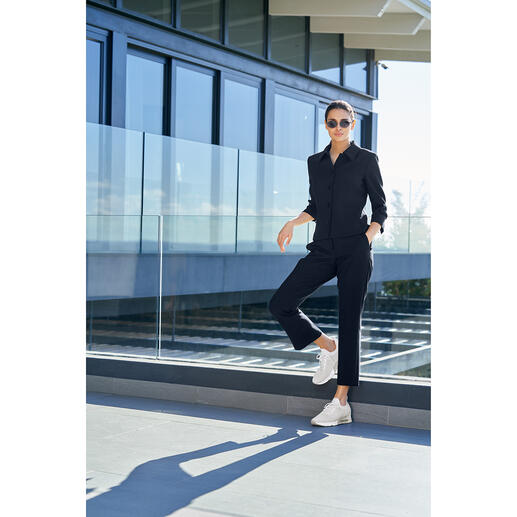 These on-trend pieces go well with 'NVSCO Cropped Trousers, Shift Dress or Couture Blazer':
Be the first to review this product