07.04.2020 - We are still here for you. Standard delivery currently takes about about 5 to 7 working days. More
Anything but dull: The classic white blouse basic with a fashionable upgrade.
From up-and-coming Munich brand aybi.
A white cotton blouse is the basis of innumerable outfit combinations – from classic to highly fashionable. Nevertheless, it still has a somewhat dull reputation. However, this blouse is anything but boring. The elegant V-neck with collar tab, the slightly wider 3/4-length sleeves, the loose A-line tunic shape and the on-trend long cuffs make it a key fashion piece for the modern businesswoman. Plus, the blouse goes just as well with casual leisure looks.
The refined collar is typical of aybi founder Aysen Bitzer.
The designer and mother of two children had already demonstrated her expertise in the field of blouses as the long-time creative director of the well-known brand 0039 Italy. In the summer of 2017, she started with her own label aybi with great success: Since the launch, aybi has been much talked about in the media and has been stocked in the best shops.

Flared A-line style. Length in size 10: 62cm (24.4"). Colour: White. 96% cotton, 4% elastane. Machine washable.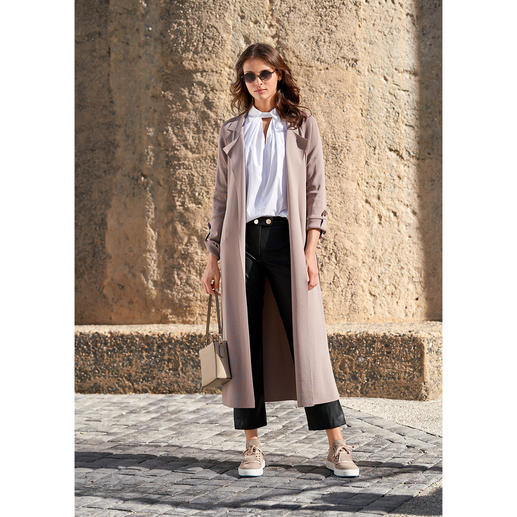 These on-trend pieces go well with 'aybi Tunic Style Blouse':
Be the first to review this product