Loevenich Paper Fedora or Bag
Loevenich Paper Fedora or Bag
Raffia look without danger of breakage: On-trend accessories, hand-crocheted from paper.
Fedora hat and matching shopping bag by German hat factory Loevenich, since 1960.
No comparison to machine-made mass-produced goods made of brittle straw. This flexible fedora is crocheted from finely twisted paper fibres. The sturdy material is so soft and pliable that you can pack your hat in your suitcase without worrying. Thanks to the thin wire in the 6cm (2.4") wide brim, it always returns perfectly to its original shape.
The perfect ensemble with the matching paper bag.
It is made of the same material as the hat and is the same colour. The matching cotton lining has two practical inner compartments. Removable tassel pendant with snap hook. Measures 46 x 34cm (18.1" x 13.4").
In Asia, paper clothing has a tradition that goes back more than 1,000 years.
The production methods, refined over the centuries, are enormously varied. In Europe, the pollutant-free natural material is only just becoming known. German hat manufacturer Loevenich has its paper collection manufactured by experienced, TÜV and BSCI certified partner companies in Vietnam and China (the Business Social Compliance Initiative based in Brussels has drawn up a code of conduct for ethically and socially acceptable standards in international supplier relationships).

Hat with 6cm (2.4") wide brim. Size of the bag: 46 x 34cm (18.1" x 13.4"). Made of paper.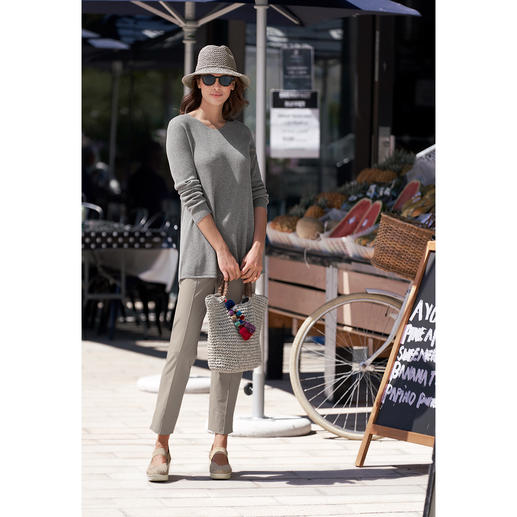 These on-trend pieces go well with 'Loevenich Paper Fedora or Bag':
Be the first to review this product