Mandala Top, Knitted Sweater or 7/8 Leggings
Mandala Top, Knitted Sweater or 7/8 Leggings
Comfortable enough for yoga, tai chi and the sofa. Chic enough for the fanciest spas and studios.
The three-part loungewear set by Mandala, Munich.
Sporty, comfortable, resilient, durable, ...Many loungewear collections satisfy these requirements. However, the wellness outfits from the Munich brand Mandala also pass the critical scrutiny of fashionable society ladies, stars and celebrities. They are worn in the spas of the finest hotels, in the trendiest yoga studios and smart beach clubs.
Ethically made.
In accordance with yoga philosophy, Mandala treats people and the environment with care, forgoes the use of pesticides and chemical fertilisers in the cultivation of their cotton, and uses dyes with few emissions according to the Öko-Tex Standard 100.
The casual knitted sweater made of fine merino wool can also be worn with jeans. Beautiful detail: The ruffles on the sides. The highlight of the top is the sophisticated back décolleté. The 7/8 leggings have a wide, comfortable waistband. Cherry blossoms and lovebirds make them extraordinary.

Length sweater in size 10: 57cm (22.4″). Colour: Rosewood. 100% wool. Hand wash. Length top in size 10: 50cm (19.7″). Colour: Rose. 95% cotton, 5% elastane. Machine washable. Inseam in size 8-10: 66cm (26″). Colour: Ecru with rose, white, brown, green. 90% polyester, 10% elastane. Machine washable.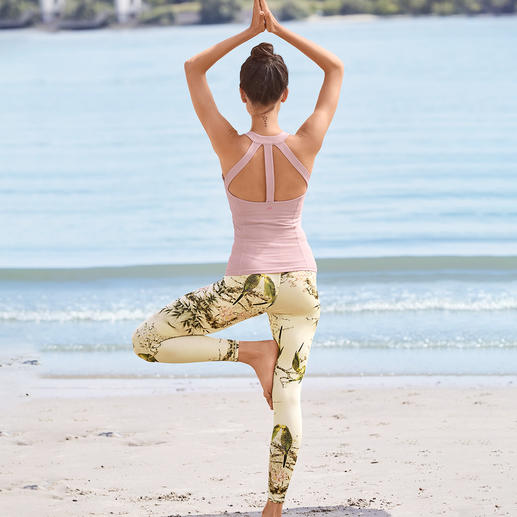 Be the first to review this product