Irelands Eye Braided Knit Coat
Irelands Eye Braided Knit Coat
Figure flattering fit, suitable for wearing indoors: the cable knit coat by Irelands Eye/Dublin.
Knitting tradition in family ownership, since 1968. (At a surprisingly affordable price.)
Indoor coats are among the most popular trends this autumn/winter. However, a lot of them are either too warm, appear bulky or simply knitted in a boring, plain pattern. This coat is the complete opposite, namely a rare original: It is still being traditionally crafted in Ireland.
Symbolic Aran designs instead of any made- up pattern:
Vividly knitted grids serve as a symbol of the fields of western Ireland, which are enclosed by stone walls. The simple braids symbolise the ropes used by fishermen, the horseshoe braids reflect their horses that once helped pulling the fully laden boats onto the shore.
A figure flattering fit thanks to the knitted "darts" and smoothly knitted sides.
The braided knit is only found along the lapel and on the sleeve cuffs and thus creates a slim silhouette.
Merino wool refined with cashmere: Warming. Durable. And soft.
Spun to an attractive blended yarn in different shades of grey with a tweed-effect. The coat can be worn open for a casual look or fastened with the mother-of-pearl buttons hidden on the inside.

Fitted. Colour: Grey. Length in size 10/12: 88cm (34.6″). 95% wool, 5% cashmere. Contains non-textile parts of animal origin. Hand wash. Made in Ireland.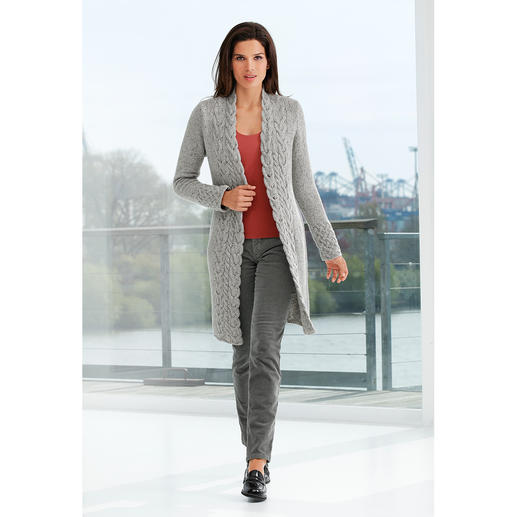 These on-trend pieces go well with 'Irelands Eye Braided Knit Coat':
By Charles C. on 11.09.2018
MY WIFE'S NEW KNITTED COAT
MY WIFE IS SO PLEASED WITH HER KNIT COAT, GREAT FIT AND LOOKS GOOD,, WHEN MY WIFE IS PLEASED ,I'M DELIGHTED,,, JOB DONE.