Cashmere Beret, Scarf or Cashmere Gloves
Cashmere Beret, Scarf or Cashmere Gloves
Practical, trendy – and made of pure cashmere.
Beret, scarf and gloves by Johnstons/Scotland.
These fabulously soft cashmere accessories are a really valuable addition to your wardrobe: They are ideal with all winter colours and can be teamed with woollen trench coats, thick tweed blazers and sporty down jackets. Even in icy cold weather, they will keep you comfortably warm, while looking very fashionable at the same time.
Unusual 2-ply cashmere.
Luxurious Chinese cashmere gives this knitted set its refined, feminine look. Only the downy soft undercoat of the Cashmere goat, each hair measuring at least 1½" (38-40mm) and only 15 microns in diameter, is spun into a 2-ply yarn. This painstakingly fully-fashioned cashmere knitwear is surprisingly hardwearing and resistant to pilling. The wide beret suits all hair styles, whether worn jauntily on one side or pulled well down over the face. Though soft, the wide knitted ribbed border will not slip. With a decorative matching button. The fully-fashioned gloves, with slit and decorative button fastening, look far more feminine than ordinary knitted gloves, fitting closely right to the fingertips – without any bulky seams.

Hat and gloves in one size. The cuddly scarf is a generous 5ft x 9.8" (160 x 25cm). 100% cashmere. Hand wash. Made in Scotland.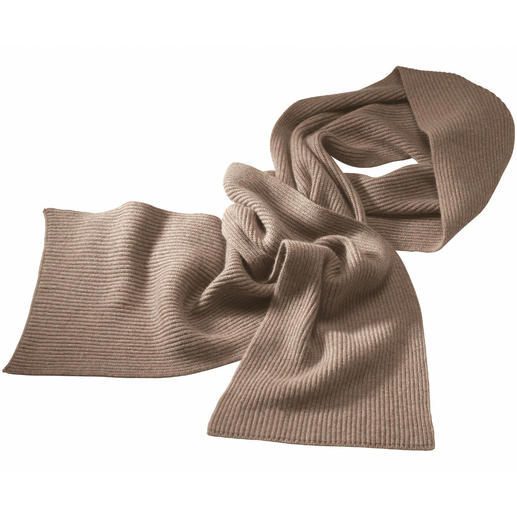 Be the first to review this product